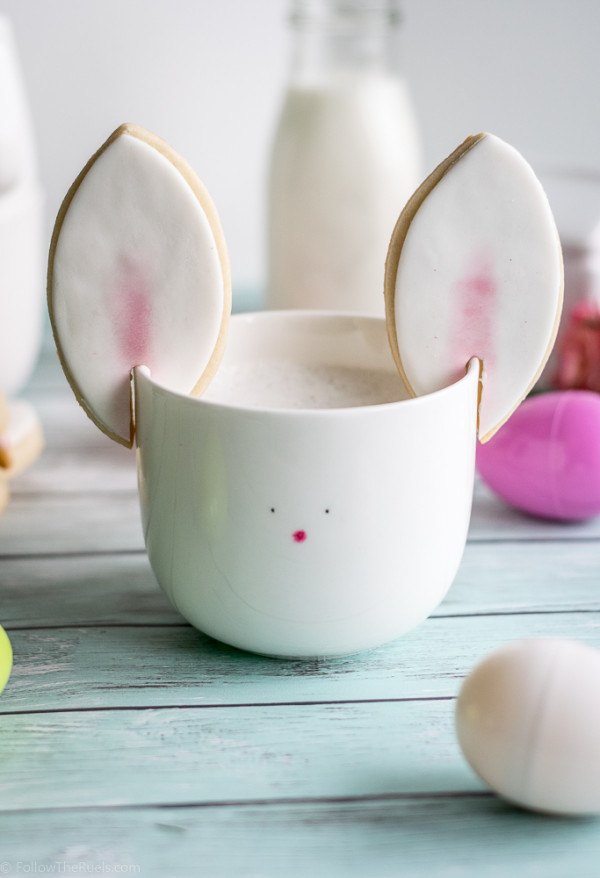 Easter Bunny Ear Cookies
Recipe by The Honey Blonde
Visit website
---
---
---
---
Ingredients
---
---
Method
In the bowl of a stand mixer, beat together butter and sugar until light and fluffy. About 2 minutes.
Add in egg and vanilla, then mix in slowly until fully incorporated.
Slowly mix in flour 1 cup at a time. Mix in lemon zest and salt with the first cup.
Roll the dough into a large ball and cover with plastic wrap. Chill for at least 30 minutes.
when ready to bake, preheat oven to 330 degrees.
Roll dough out to about 1/2 inch thick, or thicker, and cut into desired shape. Cut out a small sliver at the bottom of the cookie wide enough to place the cookie over the lip of a mug or cup. Place on a baking sheet about 1/2 inch apart. Bake for about 15 minutes, or until just barely browned on the edges.
Let cookies cool. Meanwhile, roll fondant out to about 1/16th of an inch. Cut out the fondant in the same shape as the cookie.
Brush the back of the fondant with water, then place on top of the cookie. Press down to make sure that the fondant is completely affixed to the cookie.
Brush the center of the fondant with pink luster dust to create the look of the inside of a bunny's ear.
Turn cookie over and cut out the fondant where the cookie has been cut. Smooth freshly cut edges.
Place two cookies on a mug or coffee cup to turn the mug into an Easter Bunny!