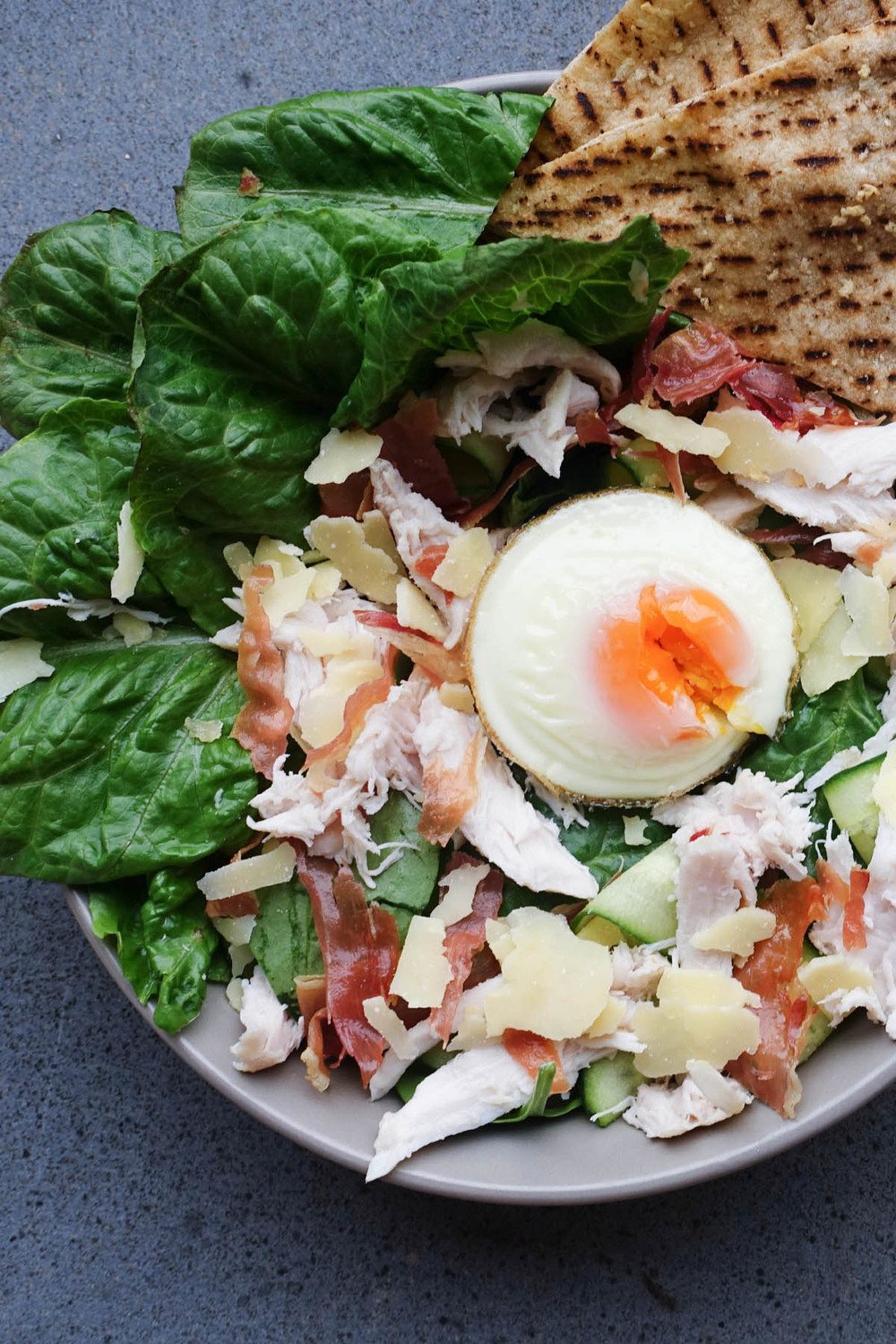 Easy Chicken Caesar Salad with Crispy Garlic Pita Chips
Recipe by You Totally Got This
Visit website
---
---
Looking for a cafe quality Chicken Caesar Salad recipe you can make at home? You're going to love this take on the cafe classic.
---
---
Ingredients
1 cos lettuce

1 lebanese cucumber

2 cups baby spinach

4 slices prosciutto

2 eggs

((beaten))

150 g supermarket roast chicken

2 tbs of flaked parmesan

1 garlic clove crushed

1 wholemeal pita bread or gluten free wrap depending on your dietary requirements

salt and pepper for seasoning

dressing

2 tbs greek or natural yoghurt

1 tsp lemon juice

1 tsp dijon mustard

1 small clove garlic minced

1 anchovy finely chopped

(optional)
---
---
Method
Preheat oven to 180C/350F, line 2 baking trays with baking paper, and lightly grease 2 holes in a muffin tin with olive oil or butter.
Place the slices of prosciutto on one baking tray, and crack the eggs into the greased holes in your muffin tin. For the crispy pita chips, brush one side of the pita bread with olive oil and sprinkle over the crushed garlic. Cut the pita bread into 8 wedges and place garlic side up on the remaining baking tray.
Put the prosciutto, eggs, and pita chips in the oven and cook for 8 to 10 minutes until the eggs are cooked and  the prosciutto and pita are crispy.
Meanwhile, shred the chicken, seperate the lettuce leaves, and cut the cucumber into thin ribbons (I use a veggie peeler) then divide the lettuce, cucumber, spinach, and chicken between two bowls. Next make the salad dressing by combining the yogurt, lemon juice, mustard, garlic and anchovy (if using) in a bowl or jar and season with salt and pepper.
When ready, remove prosciutto, eggs and pita chips from the oven. Break the prosciutto into small pieces and crumble half over each bowl. Top each bowl with an egg, sprinkle with parmesan cheese and drizzle over the dressing.
Serve with pita chips.