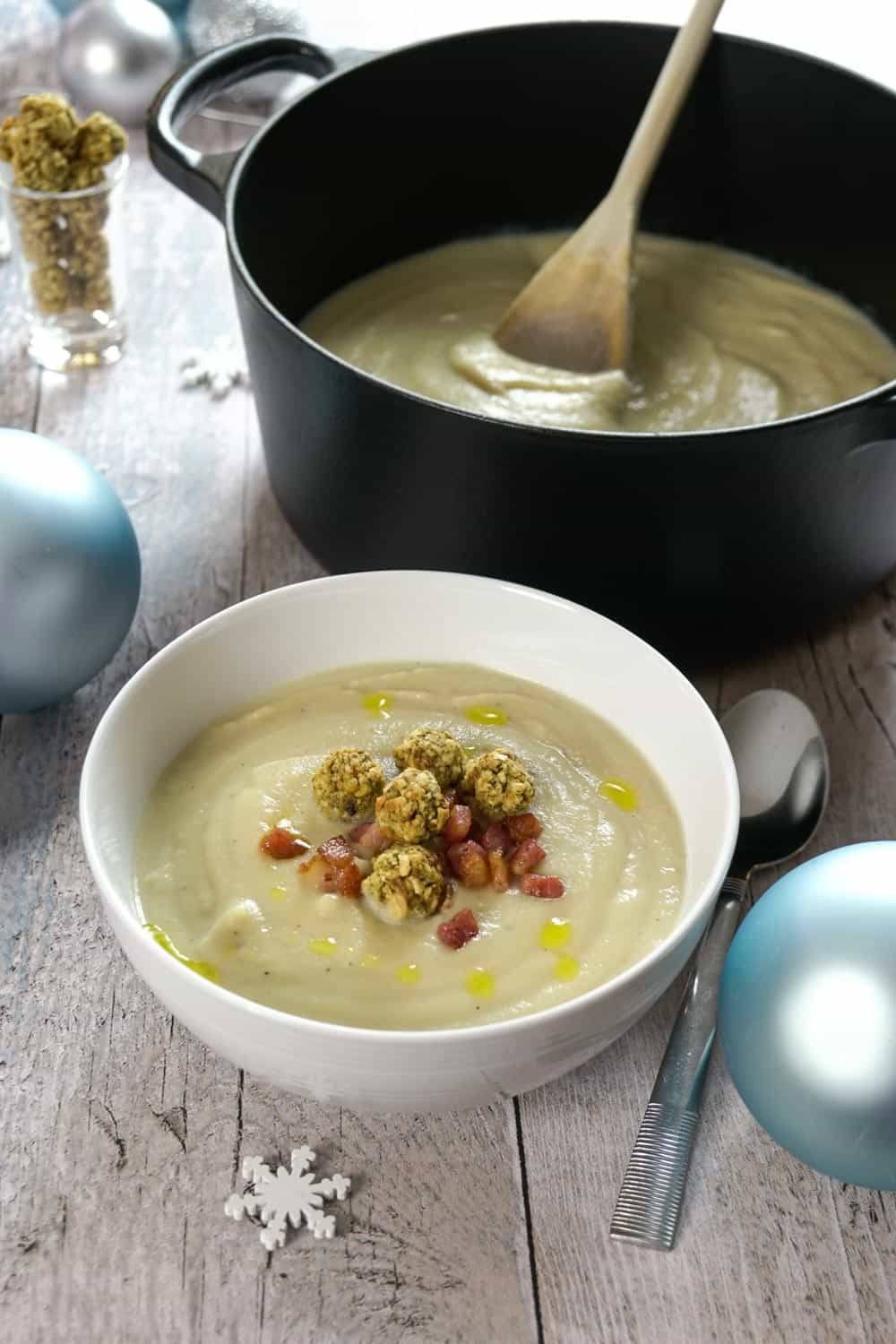 Festive Cauliflower and Truffle Soup
Recipe by Globe Scoffers
Visit website
---
---
---
---
Ingredients
1 kg cauliflower
1 white onion
1 knob butter
0.25 tsp garlic puree
1 large fresh sage leaf
500 ml chicken stock
200 ml milk
1 tsp truffle salt
1 tsp truffle oil
black pepper
60 g stuffing mix
150 g smoked pancetta cubes
---
Method
Preheat your oven to 180°C / 350°F / gas 4. In a large, deep saucepan, cook the onions in the butter on a medium heat until they are nice and glossy and turning soft. Stir in the garlic pureé and sage.
Place all of the cauliflower in the saucepan followed by the chicken stock. Turn the heat up and cover with a lid, then cook the cauliflower until soft. This will take about 15-20 minutes.
Take off the heat, and using a soup stick or blender, whizz until smooth. Once your mixture has condensed down, it will be quite thick. Now add the milk and keep whizzing until smooth.
Next, add the truffle salt and oil, give it a good mix so it infuses into the soup. Taste and season with black pepper.
Keep on a low simmer with the lid on while you cook your pancetta cubes in a frying pan until they have a bit of colour and are crisp.
Place put the stuffing mix into a bowl and add some hot water until you have a thick paste. Using your hands mould the stuffing into tiny balls. Cook in the oven for about 10-15 minutes until coloured and nice and crisp.
Ladle your soup into a bowl and drizzle with a tiny bit of truffle oil, sprinkle the pancetta cubes and add as many mini stuffing balls as you like. Serve and enjoy!