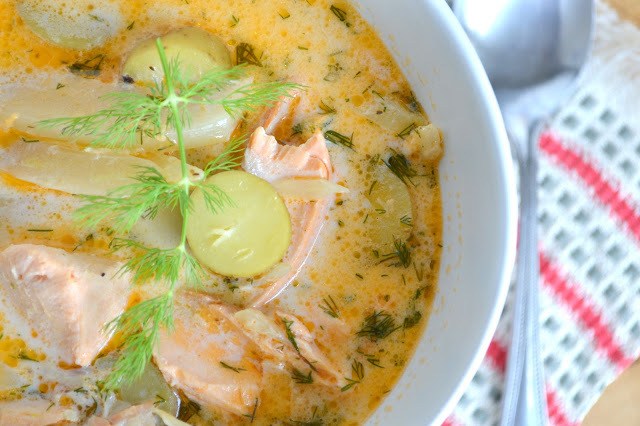 Springtime Salmon and Fennel Chowder
Recipe by The View From the Great Island
Visit website
---
---
It doesn't get any better than this, in my opinion. As I box things up and try to get mentally prepared to cross the three little bridges that will take us off this island for the foreseeable future, I have to push aside so many competing thoughts and emotions simply in order to clear enough space in my mind to remember where I last saw the roll of packing tape.  Cooking dinner is one of the last holdouts of normalcy around here, and pretty soon even that will end as I get to the point where I have to pack up the kitchen essentials.  I'll leave that until the bitter end. A bunch of fresh dill a nice piece of fish a pile of baby fingerling potatoes and a bulb of fennel go into making a quintessential New England spring supper. This chowder is best made a few hours ahead of when you want to serve it.  Keep it in the refrigerator and give the flavors a chance to mingle. It will have even more flavor the next day. Print Springtime Salmon and Fennel Chowder Yield: serves 4 Ingredients 1/2--3/4 lb salmon fillet 2 cups clam broth or juice 1 …
---
---
Ingredients
---
---
Method
Put the salmon and the clam juice in a small saucepan and bring to a simmer. Turn off the heat, cover, and set aside while you prepare the vegetables.
Halve, core, and finely slice the fennel bulb. Cut the potatoes into bite sized slices. I used fingerlings, which are long and thin so I sliced them. If you have round potatoes, quarter them.
Remove the salmon from the broth and set aside. Add the potatoes to the same broth and simmer until they are just barely tender. The liquid should just barely cover the potatoes, add a bit of water if necessary.
Meanwhile heat the butter in a heavy soup pot and saute the fennel until it is softened a bit but still firm. Add the celery seed and tomato paste and mix well.
Add in the potatoes and their cooking liquid and bring back to a simmer. Add the milk and heat through. Let the chowder steep at barely a simmer for about 5 minutes.
Break apart the salmon into large pieces and add to the pot. Give everything a gentle stir, add the dill, cover, and take off the heat.
Let the chowder cool, and then refrigerate until ready to eat. Reheat the soup gently, and be sure to check the seasoning before serving, it will probably need more salt and pepper.