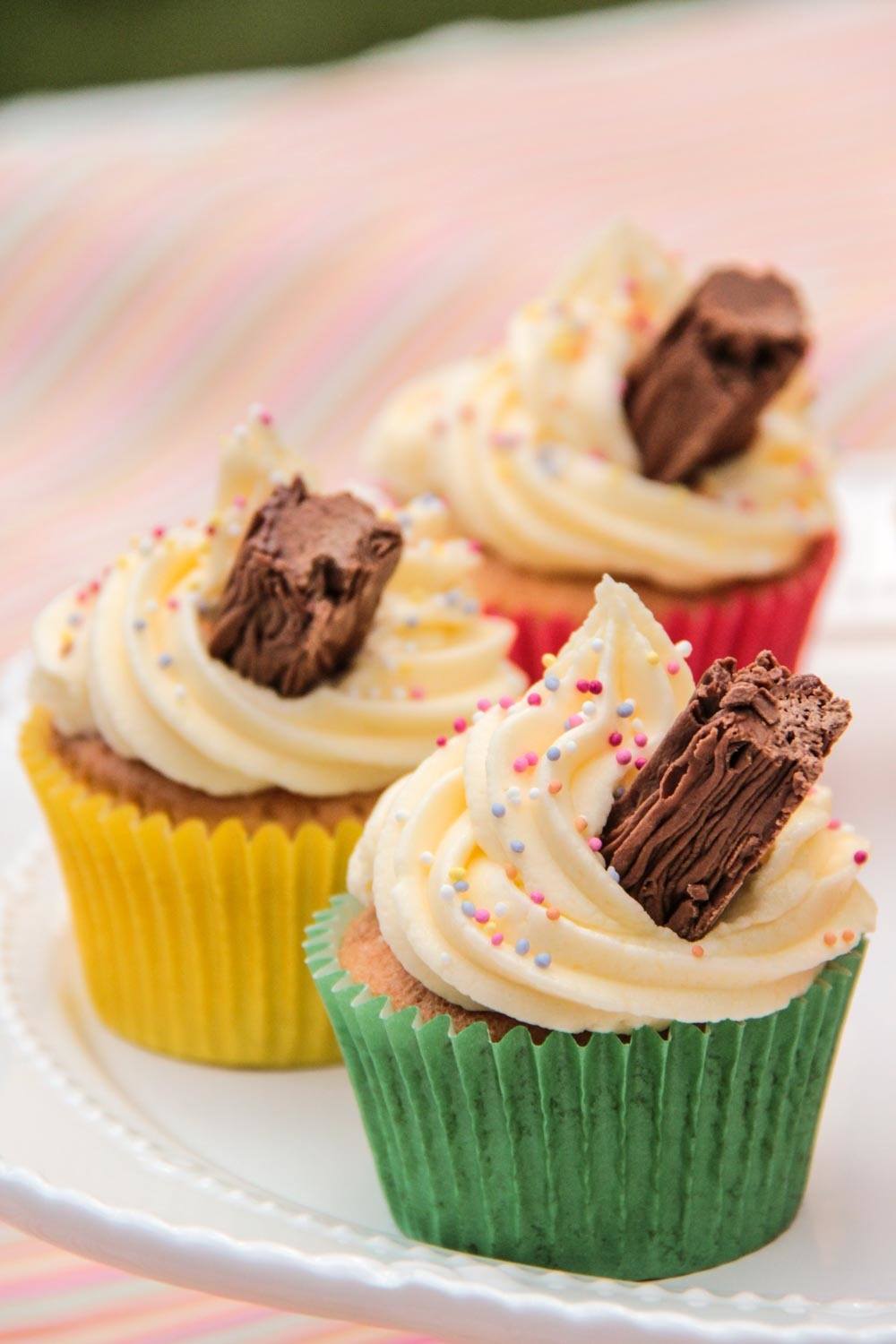 Flake 99 Cupcakes
Recipe by Globe Scoffers
Visit website
---
---
---
---
Ingredients
200 g caster sugar
200 g margarine/unsalted butter
4 eggs
200 g self-raising flour 
1 tsp baking powder
1 tsp vanilla extract
220 g margarine/unsalted butter
640 g icing sugar
2 tbsp milk
1 tsp vanilla extract
4 chocolate flakes
2-3 tbsp hundreds and thousands sprinkles
---
Method
Heat the oven to 190°C / fan 170°C / gas 5. Butter a 12 hole muffin tin.
Cream together the butter and sugar with electric whisk (I use a Kitchen Aid).
Add the eggs and mix.
Add the flour, baking powder, vanilla extract and continue to whisk together until everything is combined.
Divide the mixture evenly into the muffin tins and bake for 15-20 minutes.
Take out of the oven and transfer to a metal rack. While your cakes are cooling make your frosting.
Cream the butter on its own for about 5 minutes on a medium speed.
Sift the icing sugar into the creamed butter and then mix together on a slow speed. Gradually increase the speed until it forms a thick paste.
Add the vanilla extract and milk if needed and whisk together for one minute.
Put your frosting into the piping bag with the nozzle of your choice. Pipe each cake and sprinkle with hundreds and thousands.
Using a sharp knife dip into hot boiling water and carefully wipe the end with some kitchen towel, cut each flake into 3 pieces. Gently place each one into the side of the icing so it looks like an ice cream.
Serve and enjoy! The cupcakes should last for 2-3 days.