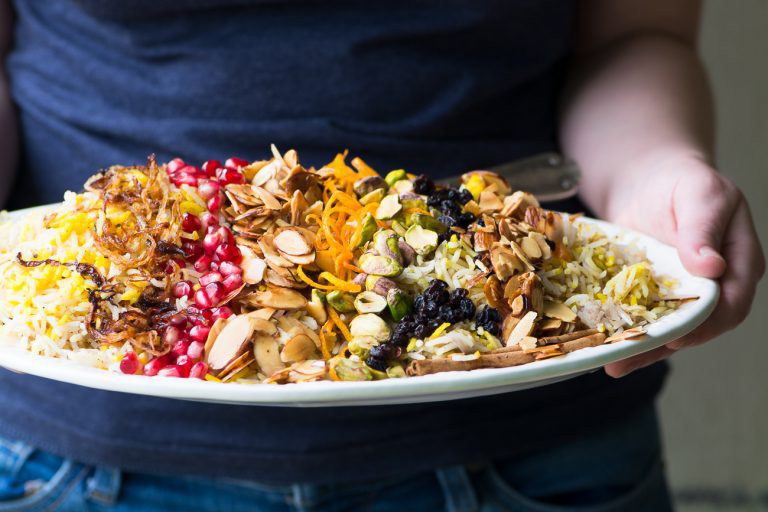 Fragrant Toasted Almond Pilaf
Recipe by The View From the Great Island
Visit website
---
---
My Toasted Almond Rice Pilaf has roots in ancient cuisines, but it's vegan and gluten free, so it'll please a modern crowd too!
---
---
Ingredients
½ tsp saffron threads

1 large onion

vegetable oil for frying the onions

½ cup sliced almonds

½ stick cinnamon

15 green cardamom pods

(crushed)

10 dried allspice berries

½ tsp Cumin seeds

3 whole cloves

½ tsp Peppercorns

¼ tsp freshly grated nutmeg

1 tbsp butter

(or olive oil for vegan)

1 tbsp olive oil

((divided))

1½ cups basmati rice

½ teaspoon salt

-¼ tsp Nielsen Massey Pure Almond Extract

garnish/toppings

¼ cup currents

¼ cup chopped pistachios

¼ cup finely shredded orange rind

¼ cup pomegranate seeds

¼ cup golden raisins

toasted almonds

(instructions below)

fried onions

(instructions below)
---
---
Method
Put three tablespoons of very hot water in a cup and add the saffron, crushing the threads between your fingers as you add them. Give it a good stir and set aside.
Peel and very thinly slice the onion. Separate the rings, and set aside 1/4 of them for frying.
Put about an inch of oil in a pan or skillet and heat until quite hot. Working in batches, fry the onions until golden and crisp. Drain on paper towels.
Heat a large pan or skillet and toast the almonds for several minutes over medium heat until they turn golden, Keep them moving at all times, and watch carefully so they don't burn. Remove from the pan and set aside. If you like, you can also fry the almonds in the oil, after you fry the onions. Your choice.
In the same pan, toast the whole spices for about 5 minutes over medium low heat, moving them almost constantly until they give off their aroma. Grind in a spice grinder. Add the freshly grated nutmeg. Set aside.
In the same pan, add the butter and olive oil and saute the remaining onions for about 10 minutes, until soft. Add 1 or 2 teaspoons of the spice mixture, according to your taste. 1 teaspoon will be relatively subtle, 2 more assertive. Cook, stirring, for a couple more minutes. Add an extra tablespoon of oil if it sticks or seems dry.
Add the rice, and stir to combine. Saute for a few minutes
Add 2 1/2 cups HOT water to the pan along with the salt and almond extract, and stir. Bring up to a boil, then lower the temperature, cover, and let cook, undisturbed, for 12 minutes. Turn off heat but allow to sit for 10 more minutes.
Remove the lid and pour the saffron water on PART of the rice. Fluff the rice and pile it on an oblong patter. Don't mix the yellow rice completely into the white, let the colors remain separate.
Top with the garnishes and the fried onions. Serve hot.