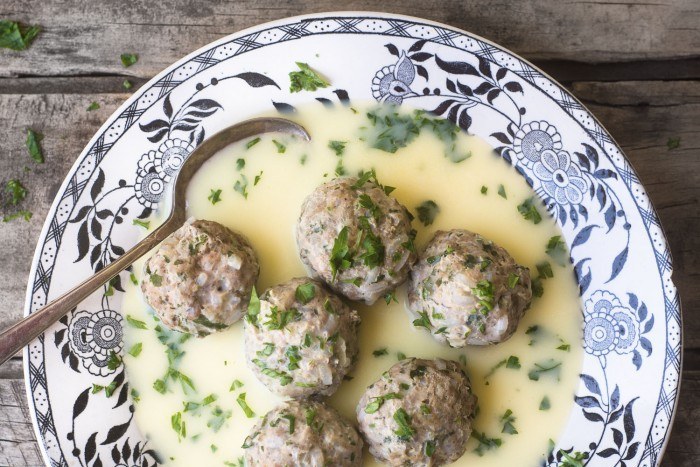 Greek Meatballs in Lemon Sauce
Recipe by The View From the Great Island
Visit website
---
---
Greek Meatballs in Lemon Sauce is the ideal spring supper --- the meatballs are tender and light, and the tangy lemon sauce is utterly luxurious.
---
Servings
makes about 2 dozen meatballs, to serve 4 as a main course
Cuisines
---
Ingredients
meatballs

½ lb ground lamb

½ lb ground pork

1 egg, lightly beaten

heaped 1/2 cup cooked rice

½ yellow onion

(minced)

1 cup fresh parsley

½ cup fresh dill

½ cup chopped fresh mint leaves

( 1 small 2/3 ounce plastic package)

2 tbsp olive oil

((divided))

½ tsp salt

½ tsp fresh cracked black pepper

½ tsp onion salt

lemon sauce

3 eggs

((beaten))

juice of 2 1/2 - 3 lemons

of salt
---
---
Method
Put all the meatball ingredients into a large mixing bowl, or the bowl of a stand mixer. Mix everything thoroughly, but gently. Don't over mix or compact the meat.
Cover and refrigerate for 1-2 hours.
Scoop the meat mixture out into 1 1/2 inch sized balls, and roll smooth with your hands. Set on a platter.
Put about 4 1/2 cups of water in a stock pot with a wide bottom. Bring the water to a boil, then set the meatballs in the water, one by one. Do this carefully, they can be fragile. The water should almost cover the meatballs, but not quite. Turn the heat down and simmer, covered, for about 15 minutes. Don't let the water boil furiously. Do this is stages if you pot is not large enough.
Remove the cooked meatballs to a fresh platter and keep warm.
While the meatballs are cooking whisk the eggs well in a medium sized bowl, whisk in the lemon juice and salt.
Remove 2 cups of the meatball cooking liquid and strain. While whisking the egg and lemon mixture, ladle about 1/2 cup of the hot liquid into the eggs to temper them. Then slowly add the rest of the liquid, stirring as you add. Pour the sauce into a clean saucepan and gently cook for a few more minutes, but don't let the sauce come to a boil, or even a simmer.
Serve the meatballs in shallow bowls on top of the sauce. Garnish with fresh parsley.