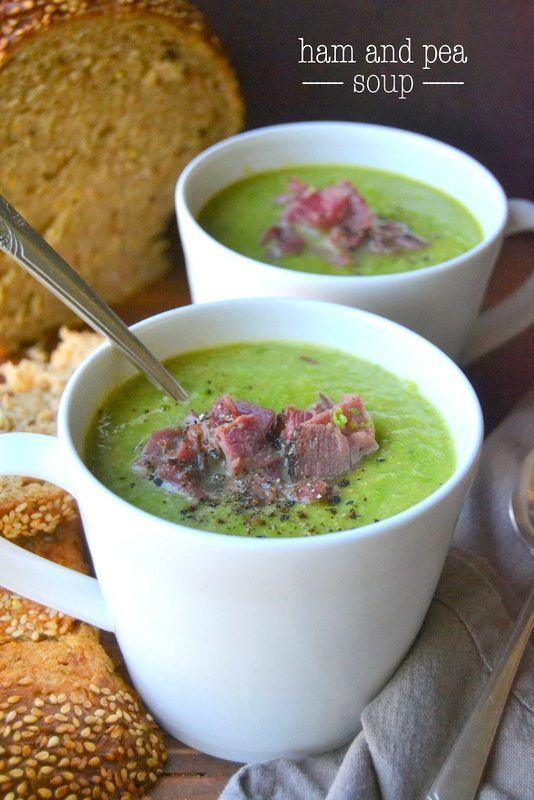 Ham and Pea Soup
Recipe by The View From the Great Island
Visit website
---
---
Hearty and vibrant Ham and Pea Soup made with fresh frozen peas will warm up the coldest night! This comforting soup is a great way to use up leftover ham.
---
---
Ingredients
the broth
1 or 2 smoked ham hocks
0.5 yellow onion
1 carrot, peeled and rough chopped
a couple of the tender inner stalks of celery, leaves included
2 bay leaves
a bunch of fresh thyme or sage
the soup
4 tbsp olive oil
1 onion
3 cloves garlic
1 oz 16 bag frozen peas
salt and pepper to taste
---
Method
First make the broth. In a large stock pot put the ham hocks and cover with 8 cups of water. Add the onion, carrot, and celery to the pot, along with the bay leaves and the whole bunch of sage or thyme. Bring the pot to a boil and then turn down the heat and simmer, partially covered, for 2 1/2 hours. You can also do this in a slow cooker set on low, for 6-8 hours.
Remove the ham hocks to a plate and then fish out the bay leaves and whole herbs. Use an immersion blender to puree the broth. At this point I also ran it through a strainer just to get out any lumps, but this isn't necessary. (I ended up with a quart of broth.) Set the broth aside.
In a clean soup pot heat the oil and saute the onion and garlic for several minutes until softened.
Add the stock and the peas and heat up to a simmer. Using the immersion blender again, puree the soup. Bring back to a simmer and taste it. Add salt and pepper as needed. Remove the meat from the ham hocks and add to the soup.
Serve hot!