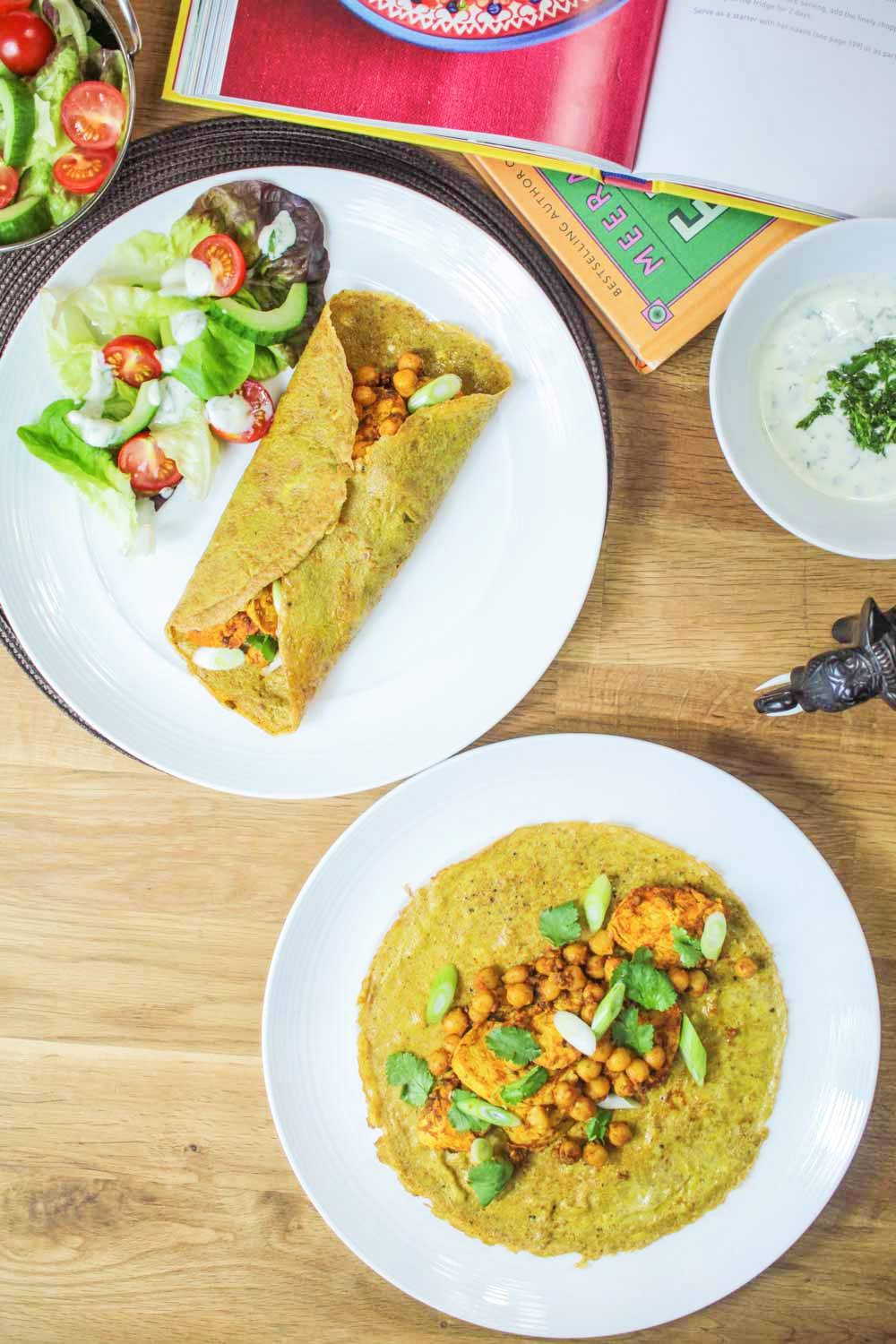 Indian Spiced Chicken and Chickpea Omelette Wrap
Recipe by Globe Scoffers
Visit website
---
---
---
---
Ingredients
1 chicken breast
125 g canned chickpeas
0.5 tsp Mustard seeds
1 tsp cumin
1 tsp ground coriander
0.25 tsp ground turmeric
0.5 tsp chili powder
1 tbsp tomato puree
1 clove of garlic
2-3 tbsp water
3 spring onions
0.5 tbsp butter
2 eggs
1 tsp medium curry powder
1 tbsp butter
salt and pepper
100 ml natural yoghurt
handful fresh coriander
0.5 juiced lemon
salt and pepper
---
Method
Mix all the dip ingredients together and finish with some coriander on top. Chill in the fridge while you are making the filling.
Add the butter to a frying pan on a medium heat followed by the mustard seeds.
Once they start to pop add the crushed garlic, followed by the spices and the tomato purée. Stir it all together and let down with a little water. Cook for a few minutes.
Add the chicken, coating in the sauce, followed by the chickpeas. Turn the heat right down and let your mixture simmer and keep warm while you make the omelette.
Crack an egg into two separate measuring jugs followed by curry powder. Season with salt and pepper then whisk well.
In a separate non-stick frying pan on a high/medium heat add 1/2 tbsp of butter to the pan. Once the butter has melted and the pan is well greased pour one of the egg mixtures in. Move the pan around until the egg mix has filled it and is cooking evenly. Gently ease the omelette onto a plate.
Add some chicken and chickpea filling into the centre of your omelette, garnish with coriander, spring onion and the yoghurt dip.
Wrap it up and serve with a side salad dressed with the yoghurt dip. Enjoy!