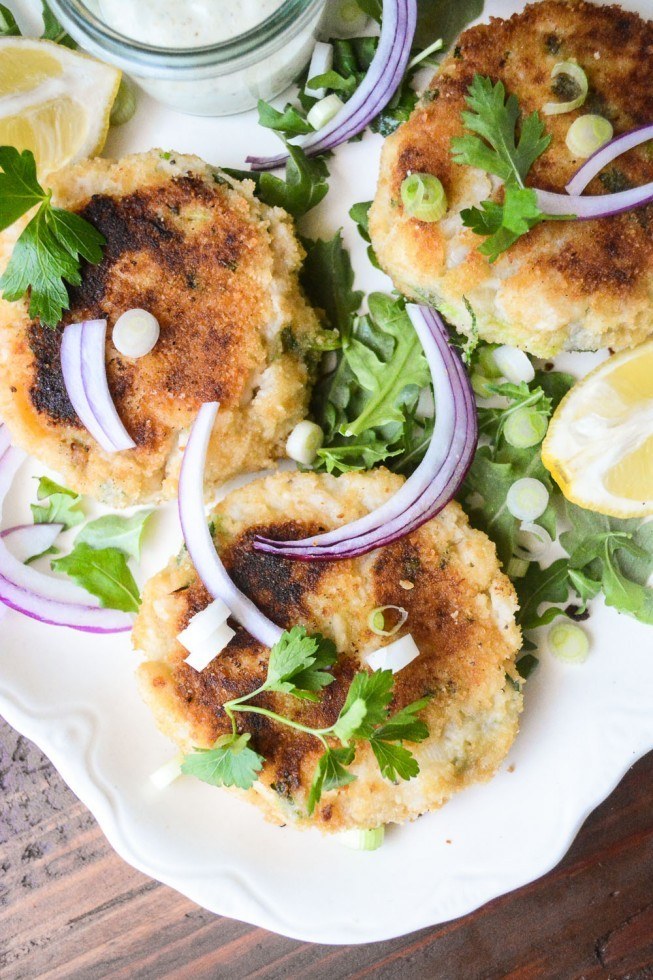 Irish Fish Cakes with 30 Second Tartar Sauce
Recipe by The View From the Great Island
Visit website
---
---
These Irish Fish Cakes with 30 Second Tartar Sauce ~ tender fish cakes with an amazing authentic 30 second tartar sauce made with your immersion blender!
---
---
Ingredients
fish cakes
1 lb russet potatoes
1 lb cod fillet
1 tbsp spicy ketchup or chili sauce
a handful of minced fresh parsley
juice of lemon
2 eggs
0.5 tsp each salt and fresh ground black pepper
1 sleeve Ritz crackers, finely crushed
several Tbsp vegetable oil for frying
garnish
sliced green onion
parsley
tartar sauce
1 pasteurized egg
1 cup vegetable oil
1 tsp grainy Dijon mustard
juice of lemon
2 tsp capers
about 1/2 cup dill pickles
0.25 tsp salt
fresh cracked pepper to taste
---
Method
Peel and chop the potatoes into large chunks. Put them in a saucepan, cover with cold water, add 2 teaspoons of salt, and bring to a boil. Cook until the potatoes are very soft.
Put the cod in a shallow saute pan and cover with cold water. Bring to a boil, and then cover, turn off the heat, and let the fish poach for about 10-15 minutes. Drain.
Drain the potatoes and put them into a large mixing bowl. Use the back of a fork to mash them, leaving a little bit of texture.
Add the ketchup, parsley, lemon juice, beaten eggs, and salt and pepper. Stir briefly to combine, and then add the fish, breaking it apart with your fingers as you add it. (Check for tiny bones as you do this.) I like the fish to remain fairly chunky, so don't break it apart too much. Fold the fish into the mixture until everything is evenly incorporated. It will be fairly wet.
I use a 1/3 cup measure to scoop out the mixture and form into patties. Flour your hands if necessary.
Roll each patty in the Ritz cracker crumbs, to coat all surfaces and set on a platter. You can cover and refrigerate the cakes at this point for later cooking if you like.
Coat the bottom of a skillet (I like cast iron) with vegetable oil and heat on medium heat until hot. Fry the cakes for about 5 minutes on each side until golden, crispy, and hot throughout. Note: the cakes will be very delicate, move and flip them with extra care.
Serve immediately on top of a bed of greens. I like to mix the greens with a few chopped ripe tomatoes and some thinly sliced red onion. You can add a little oil and vinegar to the salad if you like before adding the cakes.
Serve lots of fresh tartar sauce and lemon wedges on the side.
To make the tartar sauce: Put all the ingredients into a jar that fits the head of your immersion blender. I find that a 16 oz wide mouth mason jar is the perfect size.
Set the head of the blender down at the bottom of the jar, and turn it on. Blend for a few seconds and as the sauce starts to thicken, gently raise the blender up to blend all of the contents. This will only take a few seconds. you can pulse the blender a few times to continue to thicken the tartar sauce.
Remove the blender, give the sauce a stir, and taste to adjust the seasoning. Screw the cap on the jar and keep refrigerated until needed. Use within a week to 10 days.