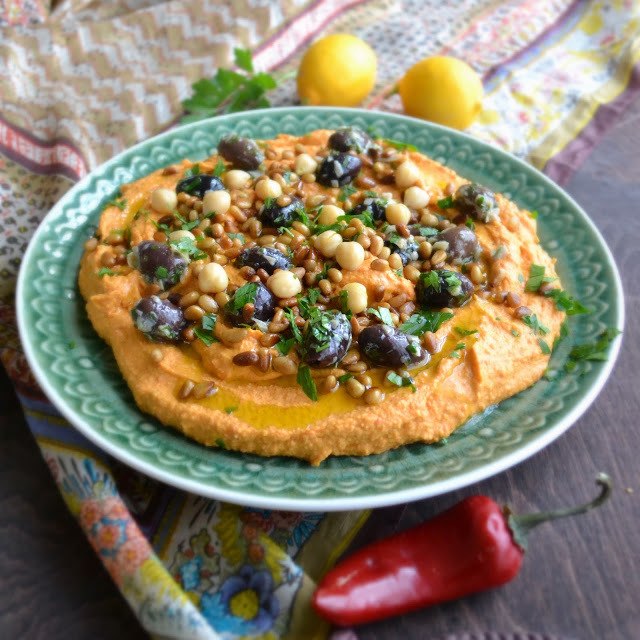 Roasted Red Pepper Hummus
Recipe by The View From the Great Island
Visit website
---
---
This Roasted Red Pepper Hummus is gutsy dish, loaded with flavor and color.  It also packs a wallop in the form of a couple of red jalapenos.  I usually don't like to mess with my hummus, I think it's one of the most perfect foods on earth just as is.  But sometimes I get the urge to embellish.
---
---
Ingredients
2 cloves garlic

(peeled)

2 red jalapenos

(rough chopped, seeds and all)

2 (15 oz) cans chickpeas

(drained and rinsed)

¼ cup cold water

½ cup roasted red peppers

(or Middle Eastern red pepper spread )

½ cup Tahini

(sesame seed paste)

1 lemon

(juiced)

salt and fresh cracked pepper to taste

garnish

reserved chickpeas

⅓ cup toasted pine nuts

⅓ cup marinated Greek olives

olive oil

((divided))

parsley
---
---
Method
Start with an empty food processor, and while the blade is going, drop in the garlic cloves, let them go until they are finely minced. Then drop in the jalapenos. Same thing.
Add the 2 cans of chickpeas and pulse and process for about a minute. It will be thick, scrape down the sides of the bowl. Add the cold water, and continue processing for another minute..
Add the roasted red peppers and continue to process, scraping down as you go.
Add the tahini, lemon, salt and pepper and let the machine do its thing for a couple of minutes until the hummus is completely smooth and creamy.
Taste it and add more lemon, salt, or pepper if necessary.
Hummus does best if it is allowed to sit in the refrigerator for a while before eating. You can make it a day ahead, if you want to.
Spread in a shallow bowl or plate, and top with the pine nuts, chickpeas, parsley and olives. Drizzle with good olive oil.