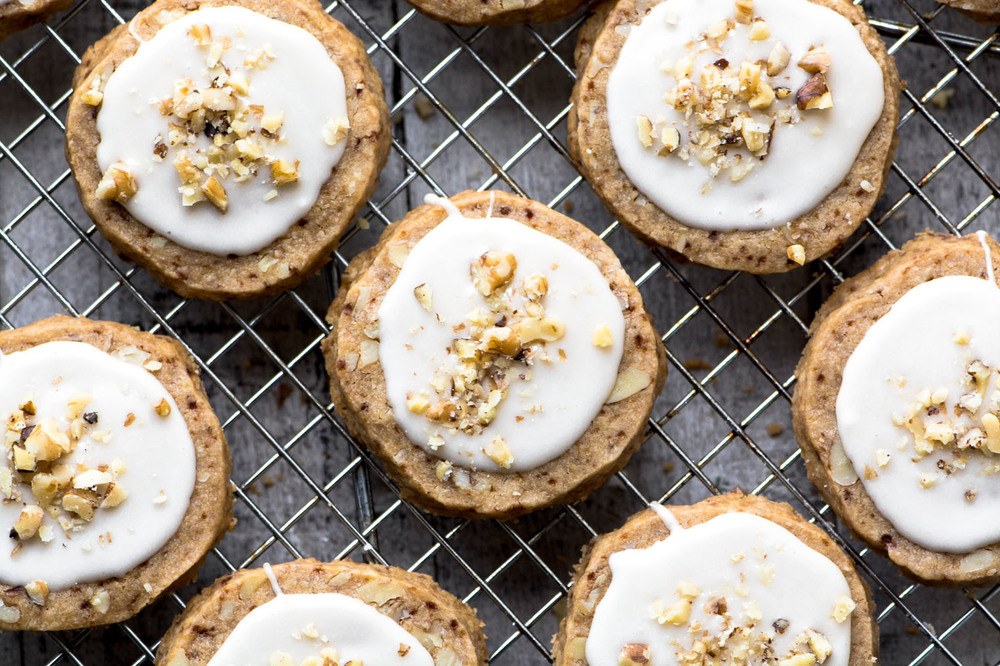 Maple Walnut Shortbread Cookies
Recipe by The View From the Great Island
Visit website
---
---
Maple Walnut Shortbread Cookies ~ maple infused and packed with nuts, this takes my classic slice and bake shortbread cookie recipe to a whole new level.
---
---
Ingredients
2 sticks, (1 cup) unsalted butter

(at room temperature)

½ tsp pure maple extract

1¾ cups all purpose flour

¼ cup cornstarch

1 cup finely chopped walnuts plus more for topping

frosting

1 cup confectioner's sugar,

about 5 Tbsp pure maple syrup

(not imitation)
---
---
Method
Cream the butter and the sugar together.
Beat in the extract.
Whisk together the flour and cornstarch. Blend them into the butter and sugar, until it forms a dough.
Stir in the walnuts and make sure you get them well distributed in the dough.
Turn the dough out onto a sheet of plastic wrap or parchment paper and form it into a log, about 9 or 10 inches long. Wrap it in the plastic and smooth it into a uniform smooth shape, twisting the ends to secure.
Refrigerate the dough for at least 3 hours.
Set oven to 350F
Slice the dough into 1/4 - 1/3 inch slices and place on a parchment or silpat lined baking sheet. Thinner slices will bake up crispier, and thicker ones will be more buttery and soft.
Bake for about 12 minutes. The cookies will still be pale and soft, but will firm up as they cool.
Cool for 2 minutes on the baking sheet, then cool completely on a rack.
Make the frosting by whisking the sugar with enough maple syrup to form a spreadable frosting. If it is too thick, add a bit more syrup, and if it becomes too think add more sugar. Spread a layer on each cooled cookie and dust with crushed walnuts. The frosting will harden as it dries.