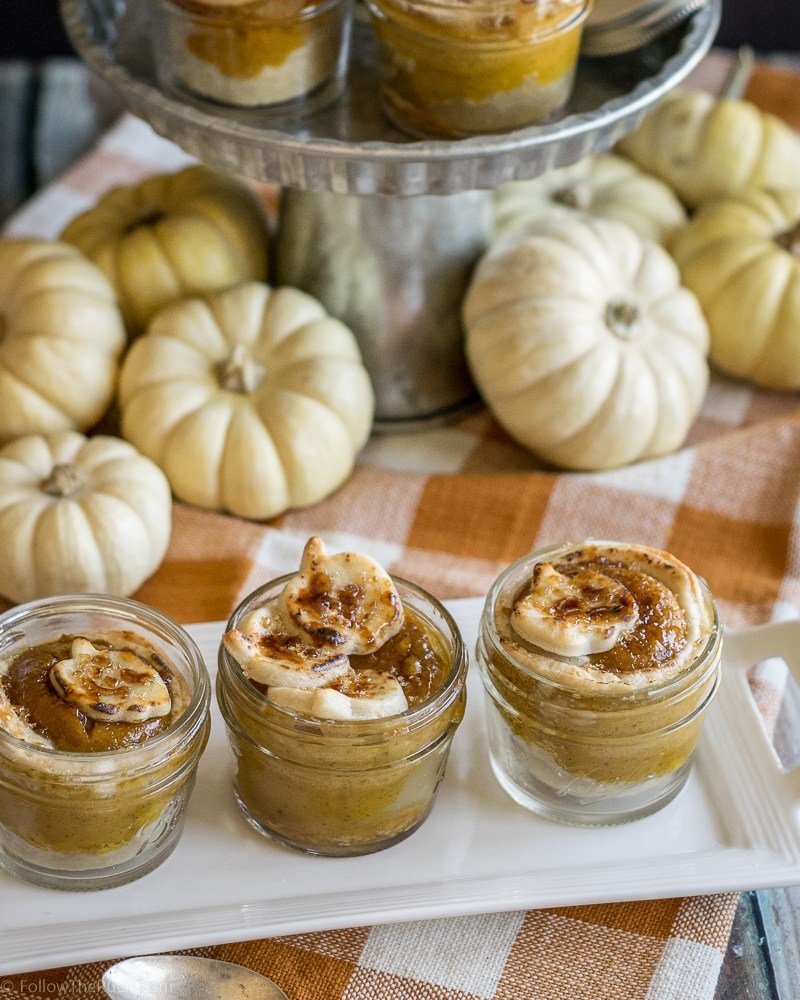 Mason Jar Pumpkin Pies
Recipe by The Honey Blonde
Visit website
---
---
I think these would be so fun for a Friendsgiving or holiday party, don't you!?
---
---
Ingredients
---
---
Method
In the work bowl of a food processor, pulse together the flour, sugar, and salt. Add butter and pulse until it forms a crumbly, sand-like consistency. Slowly add water until the dough starts to come together into large chunks or a bowl. Dump the pie dough out onto a piece of plastic wrap, wrap up, then place in the fridge to chill for at least 30 minutes.
When dough is ready, preheat oven to 400 degrees and roll out to a quarter of an inch thick and cut into 4" to 5" rounds. Press the dough into the bottom of the mason jars and press into the sides. Prick the surface with fork and bake for about 7 minutes
Meanwhile, in a small sauce pan, whisk together the pumpkin puree, half and half, and spices. Place over medium high heat and bring to a simmer, about 5 minutes. Take mixture off of the stove and let come cool for about 10 minutes.
When mixture has cooled to room temperature, whisk in sugar, maple syrup, egg, and egg yolk until smooth. Transfer filling from the sauce pan to a measuring cup. Pour the mixture into the mason jars then place on a baking sheet and bake for 20 minutes, or until the sides have slightly set.
Add additional pie dough (cut in rounds, pumpkins, squares, etc.) on top. Bake for an additional 5 to 10 minutes, until crust is slightly brown.
[OPTIONAL]. Sprinkle brown sugar on the tops of the pies, then use a brulée torch to melt the sugar until it forms a crust.