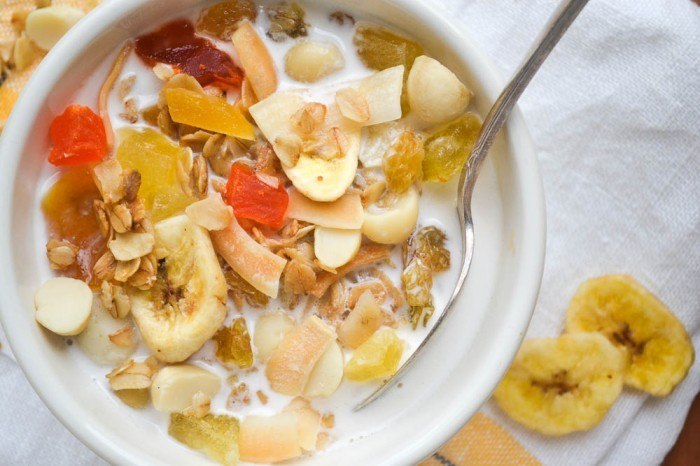 Maui Island Granola with Macadamia Milk
Recipe by The View From the Great Island
Visit website
---
---
Maui Island Granola with Macadamia Milk is a healthy, gluten free breakfast that makes you feel like you're on vacation every day!
---
Servings
granola serves 6, and makes 1 qt of macadamia milk
Courses
---
Ingredients
granola

2 cups old fashioned rolled oats

¼ cup oil, use your favorite vegetable, coconut, or nut oil, I like canola or safflower

1 tbsp honey

1 tsp vanilla extract

seeds from 1 vanilla bean

¼ cup dried pineapple

¼ cup dried mango

¼ cup papaya

¼ cup banana chips

¼ cup golden raisins

½ cup macadamia nuts

(raw or roasted and salted)

⅓ cup toasted flaked coconut

macadamia milk

1 heaping cup of raw macadamias

(use only raw nuts)

4 cups water
---
---
Method
Set oven to 350F
Chop the dried fruit into small, uniform chunks
Give the macadamia nuts a rough chop if they are whole.
Put the oats in a mixing bowl. Stir together the oil, honey, and vanilla extract and seeds. Drizzle over the oats and toss really well to coat all the surfaces of the oats.
Spread the oats out on a baking sheet and bake for about 15-20 minutes, until the oats are golden. Stir the oats several times during the baking.
Let the oats cool on the pan.
Stir the fruits and nuts into the oats and package in an airtight container when completely cooled. I like to store my granola in the fridge if I'm not going to eat it all within a couple of days.
To make the macadamia milk, put the raw nuts in a blender and blend until they are finely crushed. This will just take a few seconds, don't blend so long that it becomes nut butter.
Add 4 cups of water to the blender and blend for about 30 seconds to a minute until everything is well blended and milky white.
Pour the mixture into a muslin nut milk bag, or, if you don't have one, use several layers of cheesecloth lining a mesh strainer. Push or squeeze as much of the milk through as possible, leaving the nut solids behind.
Keep the milk refrigerated and be sure to give it a good stir or shake before using because it will separate upon standing.