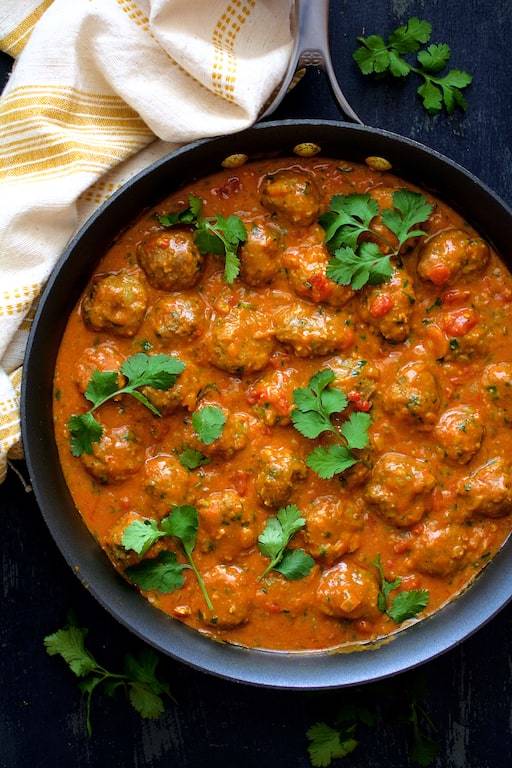 Meatballs in Spicy Curry
Recipe by From a Chef's Kitchen
Visit website
---
---
Meatballs in Spicy Curry can be made with any protein! Try beef, lamb, chicken or turkey meatballs smothered in this amazing spicy Indian-inspired sauce!
---
---
Ingredients
meatballs
nonstick cooking spray
2 tablespoons coconut oil
1 large onion
4 cloves garlic
1 tablespoon minced ginger
1 tablespoon ground cumin
2 teaspoons curry powder
0.5 cup cilantro
0.5 cup panko
0.5 cup beef broth
1 large egg
1.5 teaspoons salt
freshly ground black pepper
1.25 to 1 1/2 pounds ground beef, lamb, chicken or turkey
sauce
4 cloves garlic
1 tablespoon minced ginger
2 tablespoons curry powder
4 tablespoons all-purpose flour
3.5 cups beef broth
1 can (15-ounce) petite diced tomatoes
2 tablespoons tomato paste
0.5 cup coconut milk
0.5 cup cilantro
salt and freshly ground black pepper
basmati rice
cilantro springs for garnish
lime wedges for garnish
---
Method
MEATBALLS: Preheat oven to 375 degrees. Line a large baking sheet with aluminum foil and spray with cooking spray.
Heat coconut oil over medium-high heat in a large saute pan. Add onion and cook 8-10 minutes or until onion is softened. Transfer 1/3 of the onions to a large bowl. Leave remaining onions in the saute pan and set aside.
While the onions that you placed in the bowl are still hot, add garlic, ginger, cumin and curry powder and stir. Cool to room temperature.
To the cooled onions in the bowl, add cilantro, panko, 1/4 cup beef broth, egg, salt, black pepper and mix well. Add beef (or protein you're using) and mix well again.
Using a large cookie scoop, form mixture into approximately 36 even meatballs. Place on prepared cookie sheet. Drizzle with remaining 1/4 cup beef broth. Bake for 20-25 minutes or until center of meatballs registers 165 degrees on an instant-read thermometer.
SAUCE: While meatballs are baking, heat onions that you left in saute pan back up over medium-high heat. Add garlic, ginger, curry powder and flour and cook 1-2 minutes. Stir in beef broth, tomatoes and tomato paste. Bring to a boil, reduce heat and simmer 15-20 minutes or until thickened. Add coconut milk, cilantro and salt and black pepper to taste.
When meatballs are finished, add to sauce, stir gently to coat. Serve over hot cooked basmati brown rice. Garnish with cilantro sprigs and lime wedges.