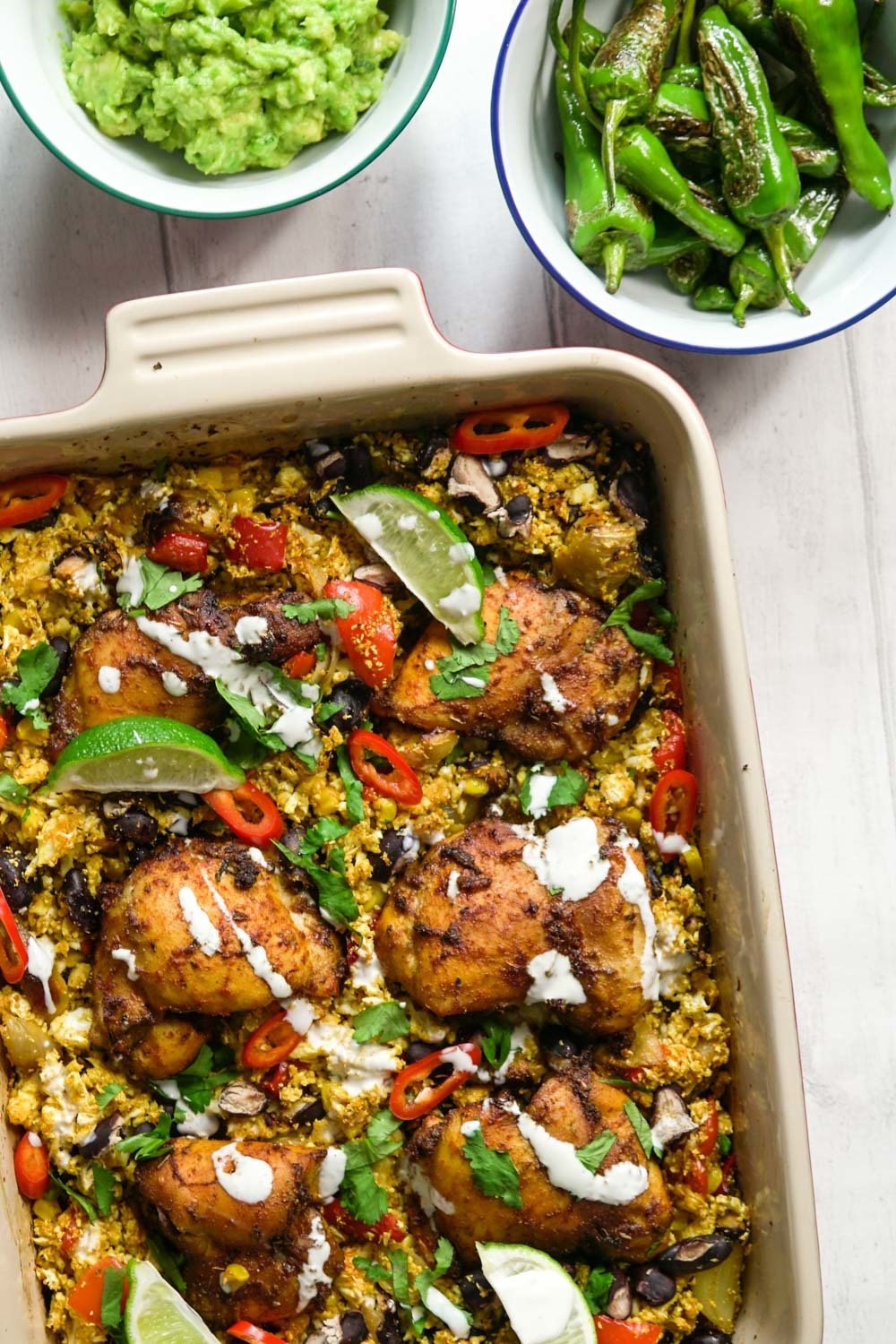 Mexican Chicken and Cauliflower Rice
Recipe by Globe Scoffers
Visit website
---
---
---
---
Ingredients
6 chicken thighs
1 tbsp rapeseed oil
1 garlic clove
1 lime
1 tsp ground coriander
1 tsp ground cumin
1 tsp dried oregano
1 tsp chilli powder
1 tsp Sweet smoked paprika
1 medium cauliflower
0.5 tsp ground turmeric
1 tsp chilli powder
1 tsp ground cumin
0.5 tsp dried oregano
0.25 tsp salt
1 handful fresh coriander
1 squeeze lime
10 shallots
1 red pepper
120 g tinned sweetcorn
200 g tinned red kidney beans
1 fresh red chilli
---
Method
Preheat the oven to 180°C / 350°F / gas 4 and then cut any visible fat off the chicken thighs. Mix together the marinade ingredients then coat the chicken, set aside.
Add about 1/2 tbsp of oil to a large tray and spread evenly. Quarter the shallots and cube the pepper and add to the tray. Place the chicken on top and bake for 45 minutes.
While the chicken is cooking, cut up the cauliflower into florets. Place the cauliflower into your food processor in batches and whizz it up, not for very long as you don't want it to be too fine. Once you have whizzed all your cauliflower, add all the spices and stir in. Set aside.
Take the tray out of the oven and add the sweetcorn. Cook for another 15-20 minutes.
Take the chicken out of the tray and place on to a plate. Add the cauliflower rice to the tray and gently stir in, along with the red kidney beans. Mix everything together then place the chicken back on top of the rice then put back in the oven a final 10 minutes.
Take out the oven and sprinkle with coriander and sliced red chillies. Serve with sour cream, guacamole and padron peppers. Enjoy!