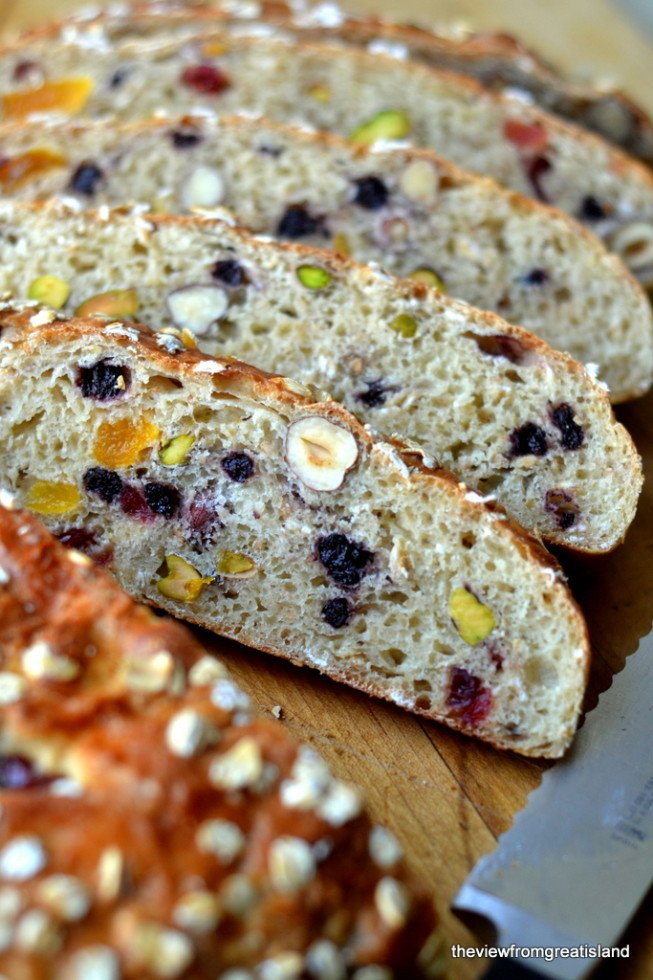 Muesli Toasting Bread
Recipe by The View From the Great Island
Visit website
---
---
Some bread is just meant to be toasted ~ like this chunky fruit and nut Muesli Toasting Bread ~ it makes breakfast a special occasion!
---
---
Ingredients
---
---
Method
Put the 1/2 cup milk, the 1/2 cup water, the honey, and the muesli cereal in the bowl of a stand mixer, or a regular bowl if mixing by hand. Let it soak for about 15 minutes.
Dissolve the yeast in 1/4 cup warm (100-115F) tap water.
Add the yeast, salt, and flour to the bowl with the muesli and mix on low for 3 - 4 minutes or until the dough comes away from the bowl. The dough will be sticky,
Turn the dough onto a floured surface and form it into a rectangle. Spread 1/2 of the fruit and nuts over the surface, then fold the dough in from each side and add the rest of the fruit and nuts. Knead the dough to incorporate all the bits evenly.
Put the dough in a clean, oiled bowl, cover well and set in a warm place to rise for an hour.
Turn the dough out onto a parchment lined baking sheet and gently form into a rectangle loaf. Push in any large bits of nuts or fruit so that the surface is as smooth as possible.
Brush with beaten egg, and sprinkle with oats. Cover and let rise in a warm place for 30 minutes. Meanwhile set the oven to 430F.
Bake for 35-40 minutes. If the crust gets too brown, cover loosely with foil towards the end of the baking time.
Cool on a rack before slicing.