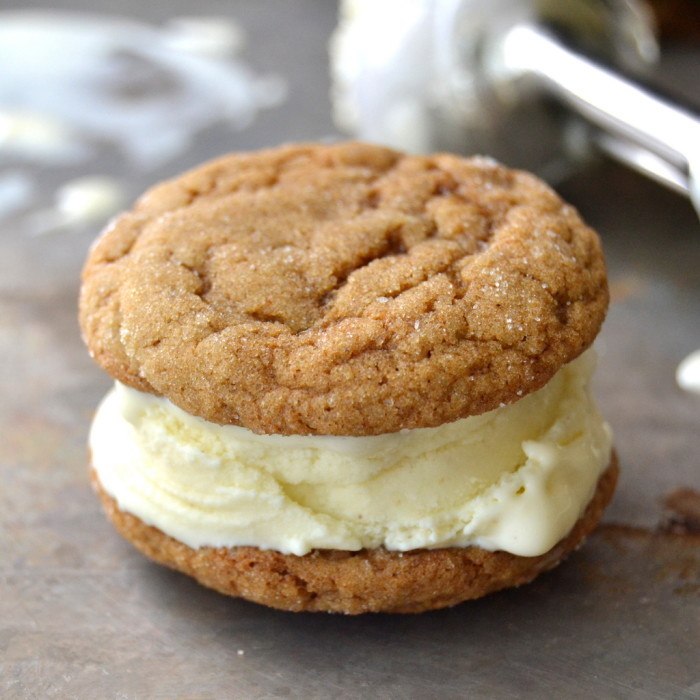 Nutmeg and Ginger Ice Cream Sandwiches
Recipe by The View From the Great Island
Visit website
---
---
Ginger Cookie and Nutmeg Ice Cream Sandwiches ~ these homemade ice cream sandwiches are a little bit summer, a little bit fall, and a whole lot delicious!
---
Servings
makes 2 dozen + sandwiches, depending on the size of your cookies
---
Ingredients
for the ice cream

5 egg yolks

1 cup heavy cream

1½ cups half and half

⅓ cup sugar

2 tsp nutmeg

(freshly grated)

for the cookies
---
---
Method
Whisk the egg yolks until pale and set aside.
Put the heavy cream and half and half in a small saucepan with the sugar and nutmeg. Stir to dissolve the sugar and then heat it just until it comes to a bubble.
Ladle a little of the hot cream mixture into the eggs, whisking the entire time. Add another ladle, and then one more, whisking constantly. Then slowly whisk the eggs into the pan, whisking constantly.
Turn on the heat and heat until the mixture thickens and coats the back of a spoon. Don't boil. I like to use a silicone spatula to stir it, it does a good job of scraping the sides and bottom of the pan so nothing sticks.
Once it is thick, take it off the heat and pour the ice cream mix into a bowl to cool down. I like to set that bowl into another bowl full of ice to speed the process. Once it is cool, cover and transfer to the refrigerator to chill completely, several hours at least.
When the mix is really cold, add it to the bowl of your ice cream maker and follow the manufacturer's instructions. You can, at any point, taste the ice cream and add more nutmeg if you like.
Put the soft ice cream in the freezer while you make the cookies. Let the cookies cool completely and then begin your assembly. I like to sort the cookies into pairs first. Then take a scoop of ice cream and set it on one cookie and press down slightly with the scoop. Set the other cookie on top and press gently. Keep the sandwiches in the freezer, wrapped in plastic, until needed.