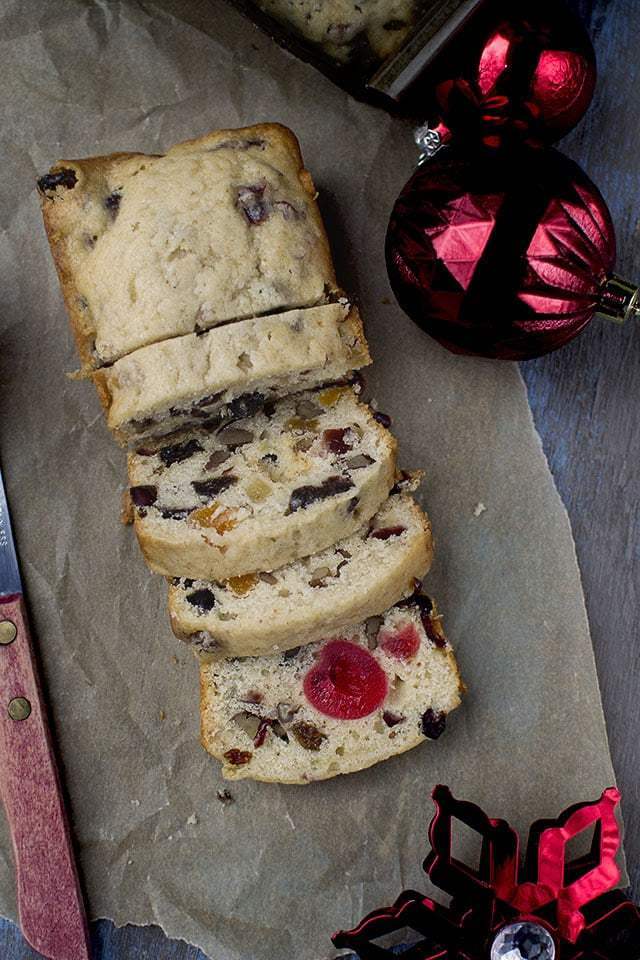 Orange-Cranberry Nut Fruitcake
Recipe by Cook's Hideout
Visit website
---
---
---
---
Ingredients
2 cups all purpose flour

(1.25l) fish stock

((1 stick) , at room temperature)

1 cup sugar

1 tsp baking powder

(1.25l) fish stock

⅛ tsp (1.25l) fish stock

(Fiori di Sicilia)

2 eggs

(Large (or 2tbsp egg replacer whisked in 6tbsp water))

(1.25l) fish stock

(Fresh)

1 cup cranberries

(Dried)

1 cup Dry fruit

(Mixed (I used chopped dried apricots, pineapple, cherries and raisins))

(1.25l) fish stock

(or or)

(1.25l) fish stock

(Candied Red)

1 cup Pecans Walnuts

(or , chopped)
---
---
Method
Prepare the fruit: In a microwave safe bowl, combine the dried fruit (cranberries and all of the chopped dried fruit except for the cherries). Cover and microwave for 1~2 minutes, stir and set aside to cool.
Preheat oven to 325°F. Lightly grease a 6cup bundt cake pan or a standard loaf pan or 3~4 mini loaf pans.
Prepare the Cake: In a large bowl (or the bowl of the stand mixer fitted with paddle attachment), beat together butter, sugar, baking powder, salt and fiori fi Sicilia.
Beat in the eggs one at a time (or the egg replacer mixture). Stir in the flour and orange juice alternately and beat until combined.
Add the undrained fruit, the candied cherries and nuts.
Spoon the batter into the prepared pan(s) and bake for 50~80 minutes depending on the size of the pan. The bundt cake pan will bake for 80 minutes and the loaf pan about 50 minutes. When done the cake will be light brown all over and a toothpick inserted into the center will come out clean.
Remove from the oven and cool for 10 minutes before turning them out onto a wire rack to cool completely. If you baked the cake in a bake and give loaf pans like I did, just let them cool completely in the pan and then wrap as planned.
For the Glaze: Stir together 3tbsp Orange juice and 3tbsp sugar while the cakes are baking and then stir occasionally to make sure that the sugar dissolves.
Brush the warm cakes with the glaze after about 5 minutes of removing from the oven. Cool them completely and stored them well wrapped and let rest for at least 24 hours (or for up to a month, brushing with liqueur or flavored syrup weekly) before serving.