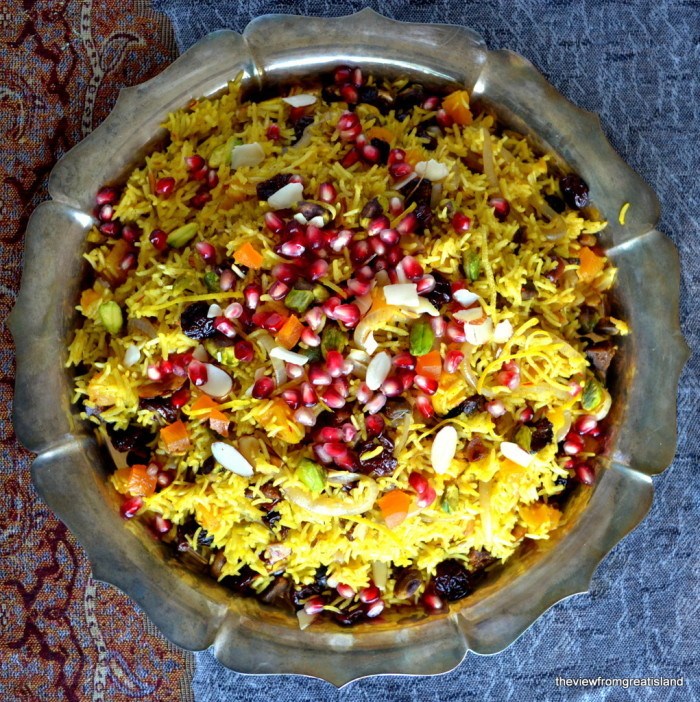 Persian Jeweled Rice
Recipe by The View From the Great Island
Visit website
---
---
Persian Jeweled Rice is a spectacular rice pilaf topped with colorful gem-like fruits and nuts ~ this popular wedding dish is a celebration in itself!
---
---
Ingredients
0.5 tsp saffron threads
2 tbsp butter
0.25 tsp fennel seeds
1.4 tsp Cumin seeds
a rounded 1/8 tsp cinnamon
a rounded 1/8 tsp cardamom
a rounded 1/8 tsp allspice
1 medium onion
1.5 cups basmati rice, rinsed well
2 bay leaves
finely julienned rind of 1 lemon
0.25 cup dried tart cherries
0.25 cup dried Turkish apricots
0.25 cup dried figs
0.25 cup slivered almonds, toasted
0.25 cup pistachios, toasted
seeds of 1 pomegranate for garnish
---
Method
Mix the saffron threads in 2 1/4 cups of hot water, Set aside.
Melt the butter in a large skillet and saute the fennel and cumin seeds until they are fragrant, just a minute or two. Add the cinnamon, cardamom and allspice and stir to combine. Add the onion and saute over low heat until the onion is softened, about 10 minutes.
Add in the rice and saute it for a minute or 2 with the spices and onion.
Pour in the saffron infused water, along with the bay leaves and lemon rind. Stir to combine, season with salt and fresh cracked black pepper.
Add in the fruit and nuts, stir to combine, and cover the skillet with a tight fitting lid. Cook on low to medium heat for about 12 minutes, then turn off the heat and let it sit, covered, for another 10 minutes.
When the rice is done, fluff it, remove the bay leaves, and spoon onto a large platter. Scatter the pomegranate seeds on top to garnish.