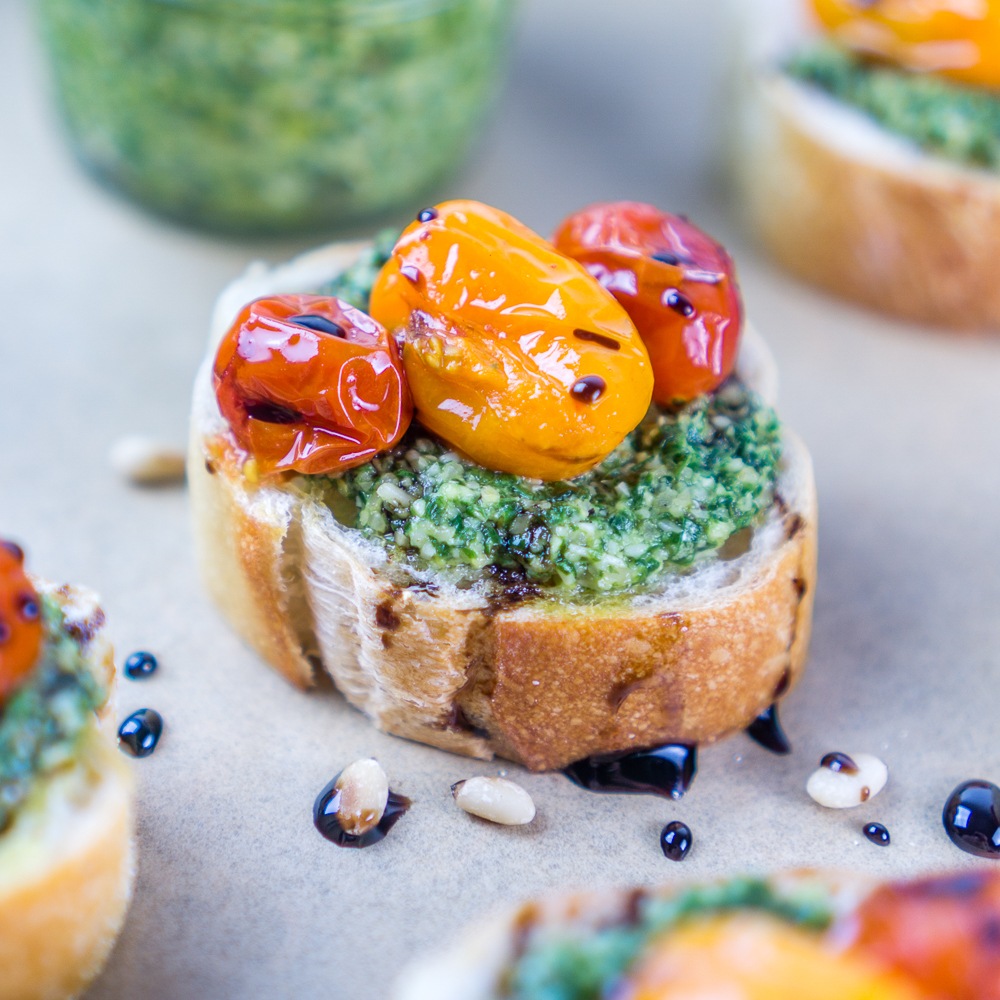 Pesto and Burst Tomato Crostini with Balsamic Glaze
Recipe by Babaganosh
Visit website
---
---
---
---
Ingredients
1 cup fresh basil leaves
0.25 cup high quality extra virgin olive oil
0.25 cup freshly grated Parmesan
0.25 cup toasted pine nuts
1 garlic clove
zest of 1 lemon
juice of lemon
0.25 tsp kosher salt
freshly ground black pepper
1 cup Cherry or Grape Tomatoes
1 tablespoon extra virgin olive oil
salt & pepper
1 french baguette, sliced into 1 inch slices
2 tablespoons extra virgin olive oil
2-3 teaspoon balsamic glaze
---
Method
Preheat oven to 400F.
Combine all the ingredients for the pesto in a small food processor, and pulse for a few seconds until well combined. Taste and see if more salt or lemon juice is needed.
Toss the tomatoes in olive oil and season lightly with salt & pepper. Roast in the oven for about 10 minutes, or until tomatoes start to split and release juices.
Brush the baguette slices with olive oil and toast in the oven at 400F for about 3 minutes. Remove from heat.
To assemble the crostini: add about 1/2 - 3/4 teaspoon pesto to each slice of bread. Top each slide with 2-3 burst tomatoes. Drizzle with balsamic glaze. Serve warm immediately.