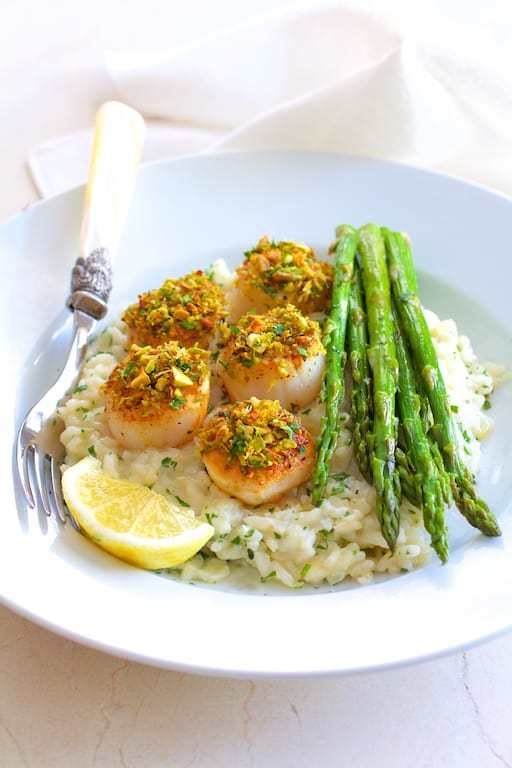 Pistachio Encrusted Sea Scallops with Champagne Risotto and Roasted Asparagus
Recipe by From a Chef's Kitchen
Visit website
---
---
Pistachio Encrusted Sea Scallops with Champagne Risotto and Roasted Asparagus is a beautiful, restaurant-quality meal that's easy to prepare at home.
---
---
Ingredients
risotto
2.25 cups chicken broth
1 tablespoon olive oil
1 tablespoon unsalted butter
0.5 medium onion
2 cloves garlic
0.75 cup arborio rice
0.5 cup dry champagne
salt and freshly ground black pepper
0.25 cup heavy cream
0.25 cup freshly grated Parmesan cheese
2 tablespoons chopped fresh parsley, plus more for garnish
scallops
0.25 cup shelled roasted and salted pistachios
1 teaspoon lemon zest
freshly ground black pepper
1.5 tablespoons unsalted butter
8-10 large sea scallops, washed and patted dry
salt
asparagus
1 bunch asparagus, tough ends trimmed
2 tablespoons olive oil
salt and freshly ground black pepper
---
Method
RISOTTO: Preheat oven to 400 degrees. Place chicken broth in a saucepan and bring to a simmer. Reduce heat to low and keep warm.
Heat olive oil and butter over medium-high heat in an oven-safe saucepan. Add the onion, reduce heat to medium and cook for 4-5 minutes or until softened, being careful not to brown it. Add garlic and rice and cook for 1-2 minutes or until slightly translucent, being careful not to brown it. Add the champagne and cook, stirring until almost evaporated.
Stir in 2 cups chicken broth and bring to a boil. Season with salt and black pepper to taste. Remove from heat, cover and transfer to the oven. Bake 20-25 minutes or until the liquid is absorbed. (Do not let rice get dry.)
Remove from the oven. Stir in the remaining ¼ cup chicken broth, cream, Parmesan cheese and parsley.
SCALLOPS: Combine chopped pistachios, lemon zest and black pepper in a small bowl. Set aside.
Heat butter in a nonstick skillet or sauté pan over medium-high heat. Season scallops with salt and black pepper. Cook approximately 1-2 minutes on the first side or until browned. Turn scallops and cook 1 more minute, basting scallops with butter in the pan. The scallops are properly cooked when slightly firm to the touch.
Using tongs, remove the scallops from the pan and lightly dredge in the pistachio mixture, pressing gently to secure.
ASPARAGUS: Preheat oven to 400 degrees. Toss asparagus with olive oil, salt and pepper. Roast 6-8 minutes to desired tenderness.
To serve, place risotto on a plate, top with scallops and asparagus. Garnish with chopped fresh parsley.