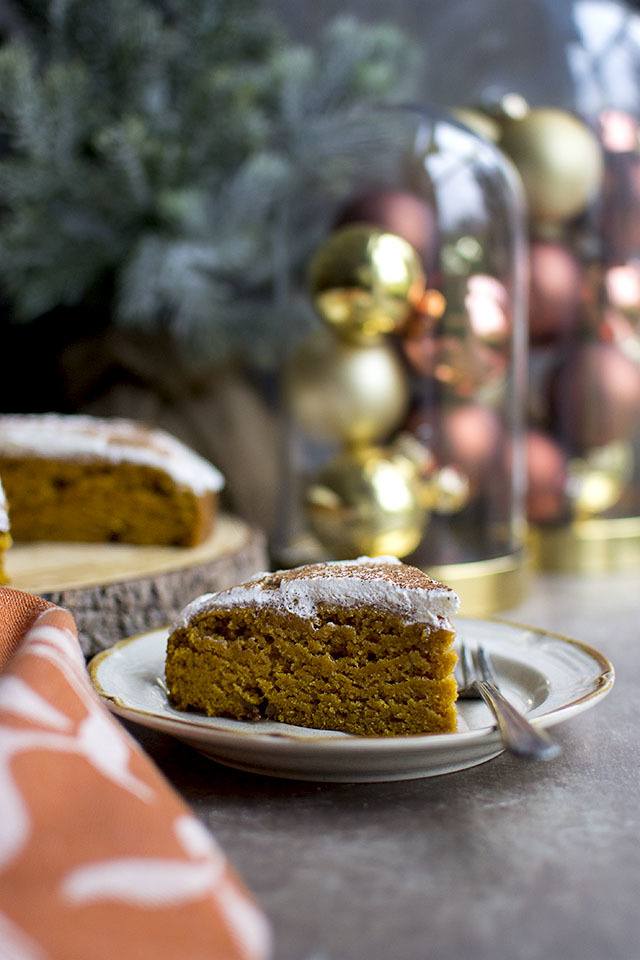 Pumpkin Cake
Recipe by Cook's Hideout
Visit website
---
---
---
---
Ingredients
0.75 cup White Wholewheat flour
0.5 cup Whole Barley flour
0.5 tsp baking powder
0.5 tsp baking soda
0.5 tsp salt
0.5 tsp ground cinnamon
0.5 tsp ground ginger
0.25 tsp ground nutmeg
0.125 tsp ground allspice
0.75 cup Light or brown Sugar
0.5 cup vegetable oil
2 tbsp Egg replacer powder whisked in 6tbsp water
1 cup pumpkin puree
0.75 cup Coconut cream, chilled
3 tbsp confectioners sugar
0.5 tsp ground cinnamon
---
Method
Preheat the oven to 350°F. Grease a 8" round cake pan and line the bottom with parchment paper.
Whisk together the flours, baking powder, baking soda, salt and spices in a mixing bowl.
In another large bowl, combine the brown sugar, oil and mix until combined. Next add the egg replacer mixer (or eggs) and whisk until evenly combined.
Stir in the pumpkin and mix well.
Finally add the dry ingredients and mix until well combined. Pour into the prepared pan and bake for 30~35 minutes or until a cake tester inserted into the center comes out clean.
Remove the cake from the oven and let cool for 5 minutes before turning it on to the wire rack. Cool completely before frosting.
Whip the cream along with sugar and ground cinnamon until stiff peaks form.
Generously frost the cake with the spiced whipped cream. Enjoy!!