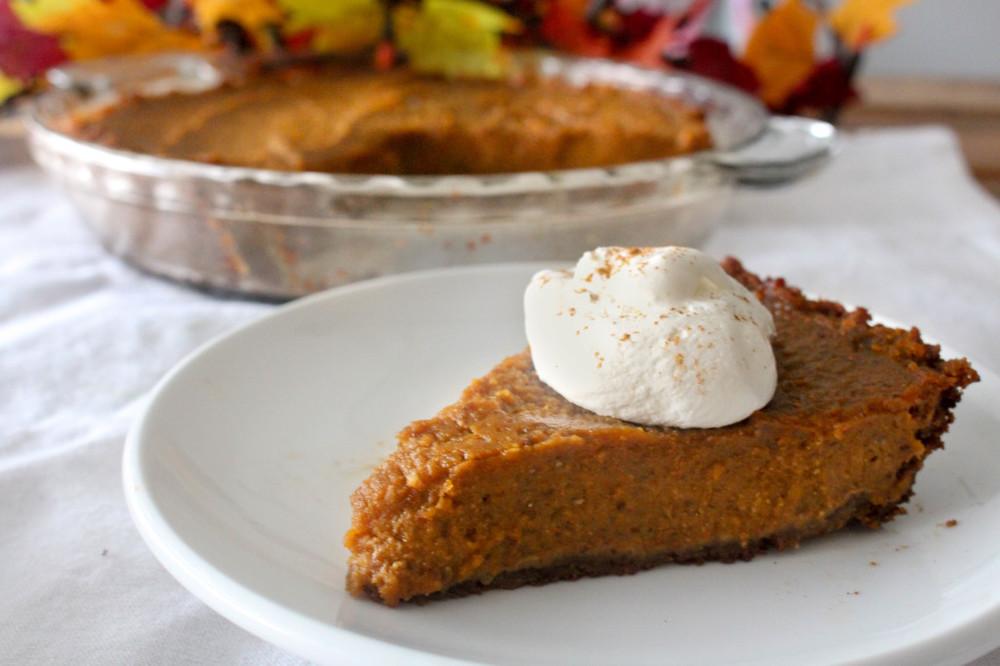 Pumpkin Pie
Recipe by Catching Seeds
Visit website
---
---
---
---
Ingredients
for the Crust:
0.75 cup Pecans
0.75 cup walnuts
0.75 cup Brazil nuts
1 tablespoon ground flax seed
0.33333333333333 cup brown rice syrup
1 teaspoon vanilla extract
0.25 teaspoon salt
for the pie filling:
1 can pumpkin puree
1.5 cup cooked garbanzo beans
0.75 cup maple syrup
1 teaspoon vanilla
0.25 cup ground flax seed
0.5 tablespoon cinnamon
1 teaspoon ginger
0.25 teaspoon nutmeg
0.25 teaspoon salt
coconut whipped cream
---
Method
Preheat the oven to 350 degrees. Coat a pie dish with nonstick cooking spray.
Add the pecans, walnuts, and Brazil nuts to a food processor. Process until the nuts are the consistency of flour and have began to release their oils.

Add in the remaining ingredients and process until a ball forms then continue to process until the dough becomes glossy (this happens as the nuts continue to release their oils).

Press the crust mixture evenly into the prepared ban, covering the bottom and the sides. Bake the crust for 15 minutes. Remove and let cook for about 10 minutes.
Rinse and dry the food processor. Add in all the filling ingredients and process until silky smooth. Spoon into the crust and spread it out evenly.

Return to the oven and bake for 50 minutes. Turn off the oven, crack open the door and let the pie sit in the oven for another 10 minutes.

Remove the pie and allow it to cook several minutes before placing it in the refrigerator to cool overnight. Remove from the oven, slice and serve with a dollop or two of coconut whipped cream, if desired.
✅ Vegan
✅ Vegetarian
✅ Gluten free