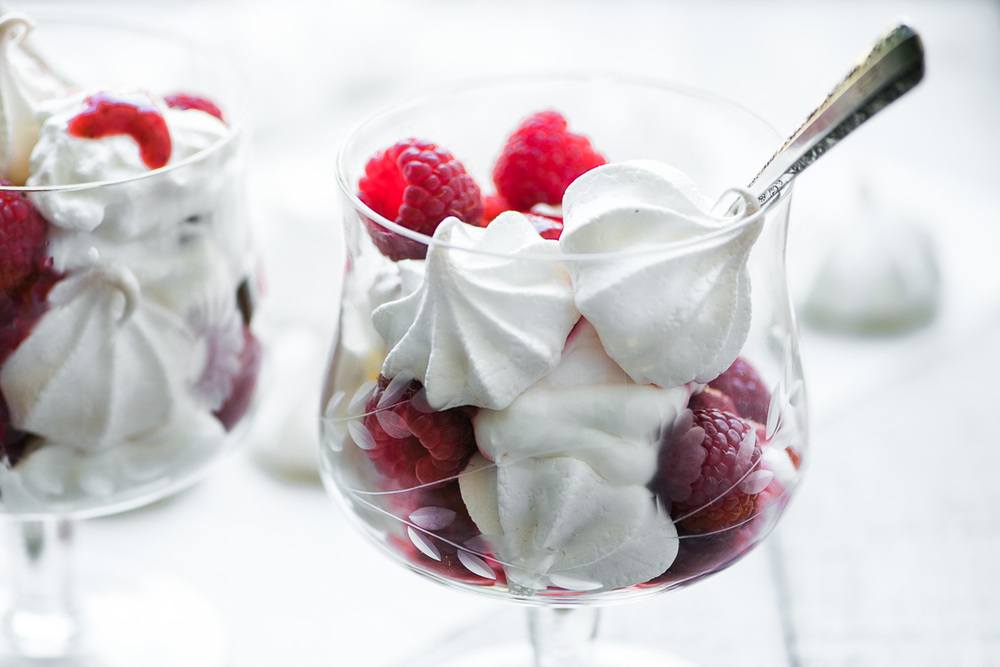 Raspberry Eton Mess
Recipe by The View From the Great Island
Visit website
---
---
Raspberry Eton Mess ~ a gluten free British dessert recipe made with meringues, berries, and lots of whipped cream. Perfect for Easter & Passover!
---
---
Ingredients
meringues

4 large egg whites

(at room temperature)

of salt

1 cup sugar

1 tsp lemon juice

2 tsp cornstarch

(sifted)

raspberry sauce

12 ounces of fresh raspberries

2 tbsp granulated sugar

seeds of 1 vanilla bean

whipped CREAM

1 cup heavy cream

4 tbsp powdered sugar

(sifted)

1 tsp vanilla or almond extract

12 ounces (2 cups) whole raspberries

(divided)
---
---
Method
Preheat the oven to 250F (an oven thermometer is a great tool to have in case your oven is not calibrated correctly) Line a baking sheet with parchment paper.
Get a pastry bag ready, fitted with an extra large piping tip. I used the Alteco 829 star tip.
Add the egg whites to the bowl of a stand mixer and beat until foamy. With the mixer going, add the salt and then slowly add the sugar. Let the mixer go on high until the whites are stiff and glossy, this will take a few minutes. The meringue should hold stiff peaks when you lift the beater out of the bowl.
Fold in the lemon juice and cornstarch. Then fill your pastry bag with the meringue.
Pipe small dollops of meringue on the lined baking sheet. They can be spaced close together because they won't spread in the oven. This recipe makes approximately 48 meringues with a base of about 1 1/4 to 1 1/2 inches in diameter.
Bake the meringues for 60 minutes, and don't disturb while baking. Then turn the oven off and crack the oven door open, and leave them in the oven for another hour.
While the meringues are baking, make the raspberry sauce. Rinse the berries and put them directly into a saucepan while they are still dripping wet. Add the sugar and vanilla and bring up to a simmer, stirring almost constantly to dissolve the sugar. Gently boil for 3-4 minutes, stirring often, until the berries have softened and released their juices.
Let the mixture cool for a few minutes, then puree briefly in a food processor until smooth. No need to strain.
Whip the heavy cream until it starts to thicken, then add the sugar and extract. Beat until soft peaks form, but be careful not to over beat or it will seize up. You want a nice soft texture. I like to beat on a medium speed so I can control the progress. Gently fold 1 cup of the whole berries into the cream, reserving the rest for serving.
To serve the Eton Mess, gather 8 serving glasses or dishes. I like to use glass so you can see the pretty layers. You'll use 6 meringues for each serving. Start with 2 or 3 meringues for the first layer, then top with some cream, a couple of berries, and a drizzle of sauce. Repeat the layer once or twice more, and finish with berries.
Note: you can break apart the meringues as you add them to your bowls, which will allow the cream and sauce to penetrate more easily. I like to keep them whole, but you can do it either way.