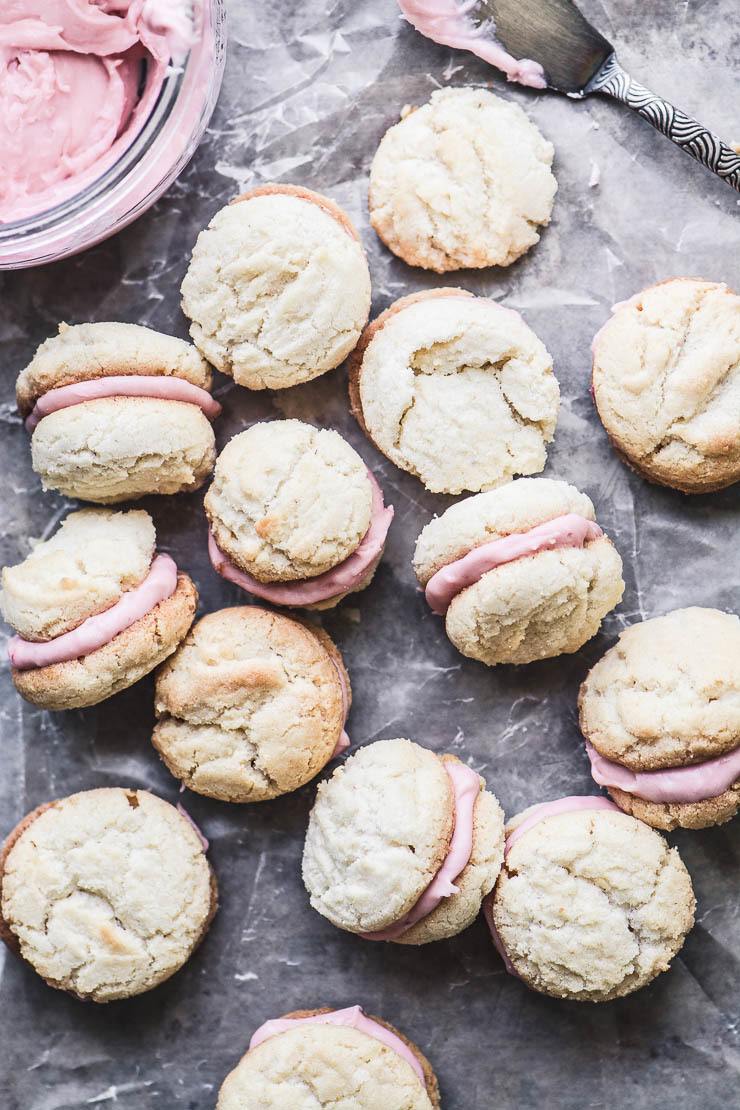 Roasted Rhubarb Lady's Kiss Cookies (baci di dama)
Recipe by The View From the Great Island
Visit website
---
---
Roasted Rhubarb Lady's Kiss Cookies (baci di dama) ~ an impossibly delicious roasted rhubarb buttercream sandwiched between light as air almond cookies...heavenly is the only word for them.
---
Servings
makes 18-20 sandwich cookies
---
Ingredients
rhubarb filling

1 stalk rhubarb, trimmed and sliced into 1 inch slices.

1½ tbsp soft unsalted butter

squeeze of lemon juice

2 cups sifted confectioner's sugar

cookies

½ cup (1 stick) unsalted butter

(at room temperature)

⅔ cup granulated sugar

½ tsp vanilla extract

½ tsp almond extract

⅔ cup almond flour

¾ cup all purpose flour

of salt
---
---
Method
Set oven to 350F
Line a baking sheet with parchment and put the rhubarb on it, in a single layer. Roast for 15-20 minutes, or until the rhubarb is soft. Let the fruit cool, then scrape into the bowl of a small food processor along with the butter and lemon juice, and process until smooth, scraping down the sides of the bowl as necessary.
Process in the sugar, a cup at a time, until the mixture is thick and glossy. Scrape down the sides of the bowl occasionally, and let the machine go for a couple of minutes. If your frosting is too thick, add a touch of milk or more lemon juice, and if it's too thin, add a touch more sugar. Cover and chill, the frosting will thicken up as it chills. You can do this a day ahead.
To make the cookies, beat the soft butter and sugar on medium high in a stand mixer for 3 minutes, scraping down the sides as necessary. This step is important because it will incorporate air into the dough to help the cookies rise. Beat in the extracts.
Add the flours and mix until the dough starts to come together. Turn out onto a surface and bring the dough together with your hands, kneading into a soft dough.
Use a small 1 1/4 inch cookie scoop, or a measuring teaspoon, to scoop out small amounts of dough ~ roll into balls and put them in the freezer until hard, about 15-20 minutes.
Put the frozen dough balls on a parchment lined baking sheet and bake the cookies until they are risen and just beginning to turn golden, about 14-15 minutes. Don't wait until they are brown or they will be over baked. The size of your cookies will determine the baking time, so do a test cookie or two to figure that out. Let cool on a rack before filling.
To fill, put a dollop of frosting on the flat side of one cookie, and top with another.