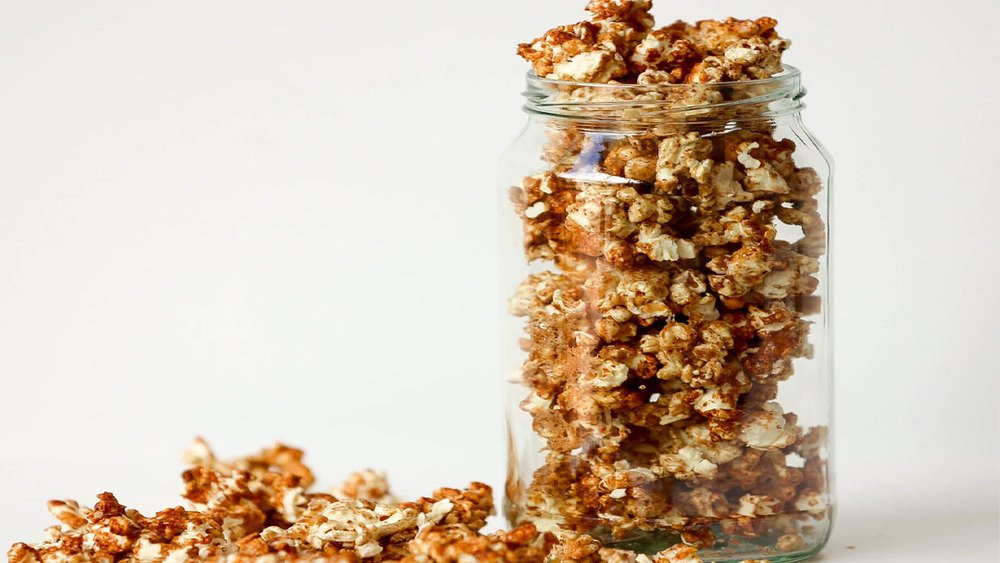 Salted Caramel Cinnamon Popcorn
Recipe by You Totally Got This
Visit website
---
---
Cinnamon is the newest superfood on the block. Get your fix with this YUMMY gluten free, dairy free, and fructose free salted caramel cinnamon popcorn
---
---
Ingredients
¼ cup popcorn kernels

2 tbs olive oil

((divided))

½ cup rice malt syrup or honey

3 tablespoons almond butter

1 teaspoon vanilla powder

1 teaspoon cinnamon, and extra to sprinkle

¼ teaspoon salt
---
---
Method
Preheat oven to 180C/350F and line a baking tray with baking paper.
Heat the olive oil in a large pot over medium heat. Add the popcorn kernels, cover the pot, and cook until popped, shaking occasionally for 4 to 5 minutes. Remove the pot from heat. 
Place all the other ingredients in a small saucepan on medium heat and stir until they are well combined, this will only take a couple of minutes.
Pour the mixture over the popcorn and stir with a spoon until it is completely coated with the salted caramel mixture.
Transfer the popcorn to the lined baking tray and arrange it in a single layer.
Cook in the oven for about 5 minutes, or until the popcorn is a deep caramel colour. Keep an eye out because this will happen really quickly.
Remove the tray from the oven and allow the popcorn to cool. The popcorn will still be soft when you remove it from the oven, but it will crisp up as it cools down.
When it has cooled break the popcorn into small pieces and sprinkle with extra cinnamon.