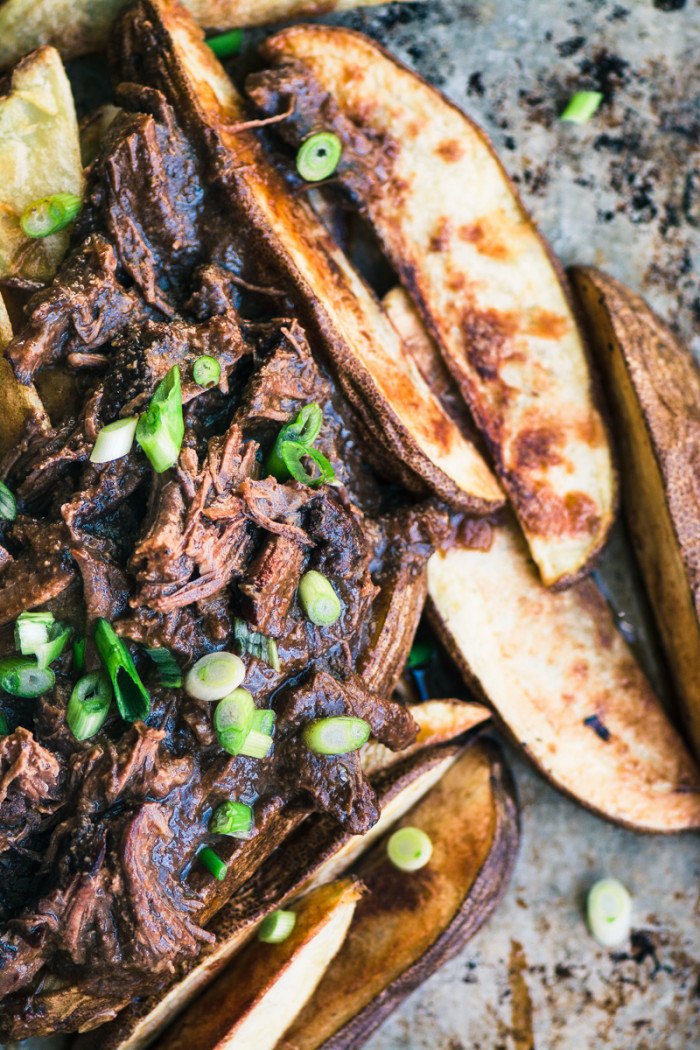 Short Rib Fries
Recipe by The View From the Great Island
Visit website
---
---
Short Rib Fries ~ thick cut wedges of potato baked until browned and crispy, then topped off with fork tender braised short ribs in a rich wine gravy.
---
---
Ingredients
4 large meaty short ribs

salt and freshly cracked black pepper

olive oil

1 medium yellow onion, halved and sliced, or chopped

6 mushrooms

(sliced)

3 cloves garlic, smashed

3 bay leaves

1 cup red wine

1 cup beef stock

(plus more if necessary)

3 tbsp tomato paste

3 large russet potatoes, scrubbed but not peeled

garnish

sliced green onions
---
---
Method
Preheat the oven to 300F
Coat the bottom of a large heavy pot with olive oil and heat over medium high heat until hot.
Season the ribs with salt and pepper and sear for 2-3 minutes on all sides until they're nice and browned. Remove them to a plate.
Add a bit more oil to the pan, if necessary, and add the onions, mushrooms, garlic, and bay leaves. Saute for about 10 minutes, until onions have softened. Stir often.
Add the wine to the pot and let it boil for about 2 minutes. Loosen up any browned bits from the bottom of the pan. Add the stock and tomato paste and blend well. Put the ribs back into the pot and add more stock, or water, if necessary, so the liquid comes about 3/4 of the way up the ribs, but does not cover them. Bring the whole pot up to a simmer, then cover and put in the oven for 3 hours.
Remove the ribs from the pot and remove the bay leaves. Puree the gravy, in batches, and put in a storage container. (You may strain the gravy after pureeing if you like) When cooled, refrigerate the gravy and the ribs, separately, overnight.
THE NEXT DAY remove the layer of hardened fat from the gravy and shred the meat. Add the meat to the gravy and reheat on the stove top. Taste and add salt and pepper.
Preheat oven to 400F. Slice each potato in half lengthwise, and then into 8-12 fat wedges. Toss them in olive oil so all surfaces are lightly coated. Spread out in a single layer on a baking sheet and bake for about 30 minutes, or until browned and crisp. Be sure your oven is at temperature before you begin cooking. Flip and rearrange the fries every 5 minutes for the first 10 minutes, and after that, every 10 minutes. Salt and pepper them lightly if you like.
Lay out the fries on a clean pan or platter and top with the hot ribs and gravy. Sprinkle with sliced green onions.