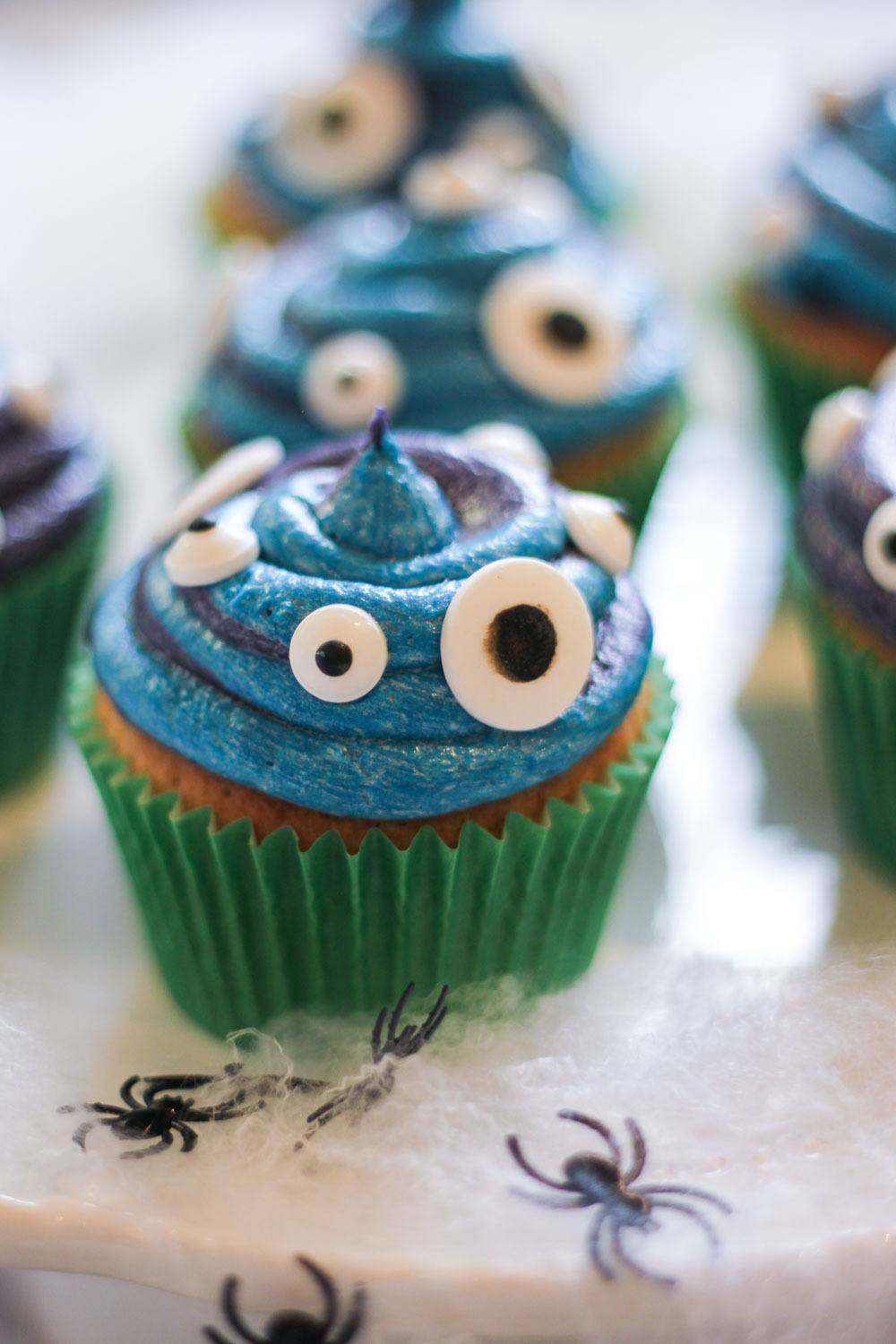 Slime Monster Cupcakes
Recipe by Globe Scoffers
Visit website
---
---
Spooky slime monster cupcakes are eyeing you up this Halloween!
---
---
Ingredients
200 g caster sugar

200 g margarine/unsalted butter

4 eggs

((beaten))

200 g self-raising flour 

1 tsp baking powder

1 tsp vanilla extract

220 g margarine/unsalted butter

640 g icing sugar

2 tbsp milk

(If you need to loosen the icing )

food colouring

sugar eyes

250 g blueberries

35 g caster sugar

2 tsp lemon juice

2 tbsp water
---
---
Method
Heat the oven to 190°C / fan 170°C / gas 5. Butter a 12 hole muffin tin.
Cream together the butter and sugar with electric whisk.
Add the eggs and mix.
Add the flour, baking powder, vanilla extract and continue to whisk together until everything is combined.
Divide the mixture evenly into the muffin tins and bake for 15-20 minutes. While the cakes are in the oven, make the blueberry compote.
Add half the blueberries to a pan on a medium heat along with the sugar, lemon juice and water. Cook for 10 minutes, stirring often.
Add the rest of the blueberries and cook for a further 5 minutes. Take off the heat and let the compote cool.
Take the cakes out of the oven and transfer to a metal rack. While the cakes are cooling make the frosting.
Cream the butter on its own for about 5 minutes on a medium speed.
Sift the icing sugar into the creamed butter and then mix together on a slow speed. Gradually increase the speed until it forms a thick paste.
Add the milk if needed, then whisk together for one minute.
Separate the mixture into two bowls. Add the food colouring to each, stir in until you have the colour of your choice.
Cut a hole out of the centre of each cake and place in a small amount of the blueberry compote.
Put the two types of frosting into the separate sections of the piping bag. Pipe each cake and place on the sugar eyes.
Serve and enjoy!