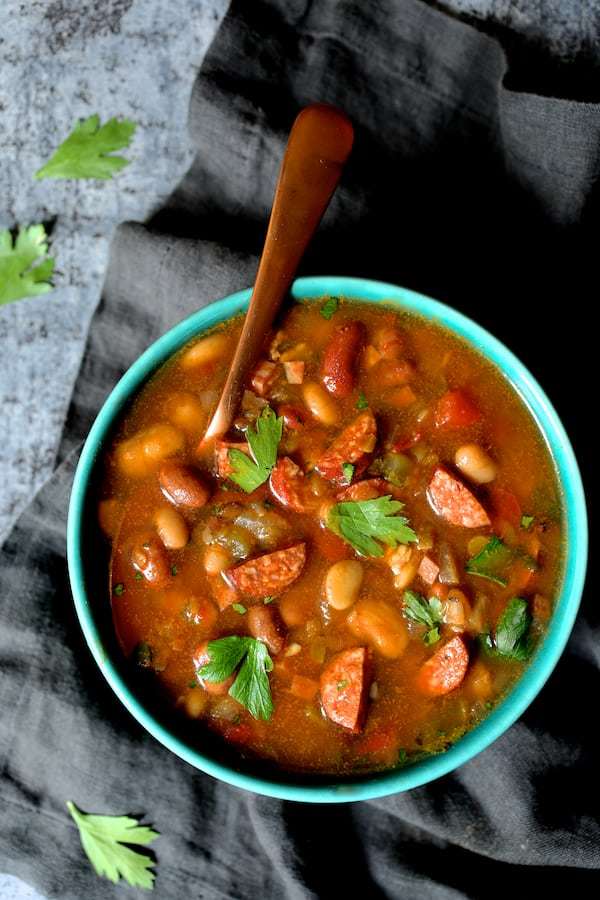 Slow Cooker Cajun 15-Bean Soup with Andouille, Ham and Bacon and the Raise Gift Card Marketplace App
Recipe by From a Chef's Kitchen
Visit website
---
---
Slow Cooker Cajun 15-Bean Soup with Andouille, Ham and Bacon is hearty comfort food that's easy and perfect for a winter night! #ad #sponsored #LifeonRaise
---
---
Ingredients
water, for soaking beans
1 bag
1 large onion
1 large green bell pepper
2 stalks celery
6 cloves garlic
7 cups water or unsalted chicken broth
2 bay leaves
2 tablespoons Cajun seasoning, or to taste
1 canned diced fire-roasted tomatoes
2 tablespoons tomato paste
2 tablespoons roasted chicken base
1 package (1-pound) Andouille sausage, halved and sliced
1 package (8-ounce) diced ham
4 slices bacon,
0.5 cup fresh parsley
cayenne pepper
salt and freshly ground black pepper
---
Method
Approximately 1 hour before starting the slow cooker, bring a saucepan full of water (large enough to hold all the beans when they expand) to a boil. Add the beans, turn off the heat, cover and let stand for 1 hour. Drain.
Combine beans, onion, green bell pepper, celery, garlic, water (or unsalted chicken broth) and bay leaves in a slow cooker. Cook 4 hours on high or 7-8 hours on low.
When the beans have approximately 1 hour to go on high or 2 hours to go on low, add Cajun seasoning, tomatoes, tomato paste, roasted chicken base, sausage, ham and bacon. Cover and complete slow cooker cycle.
Remove and discard bay leaf. Add parsley, cayenne and salt and black pepper to taste and serve.