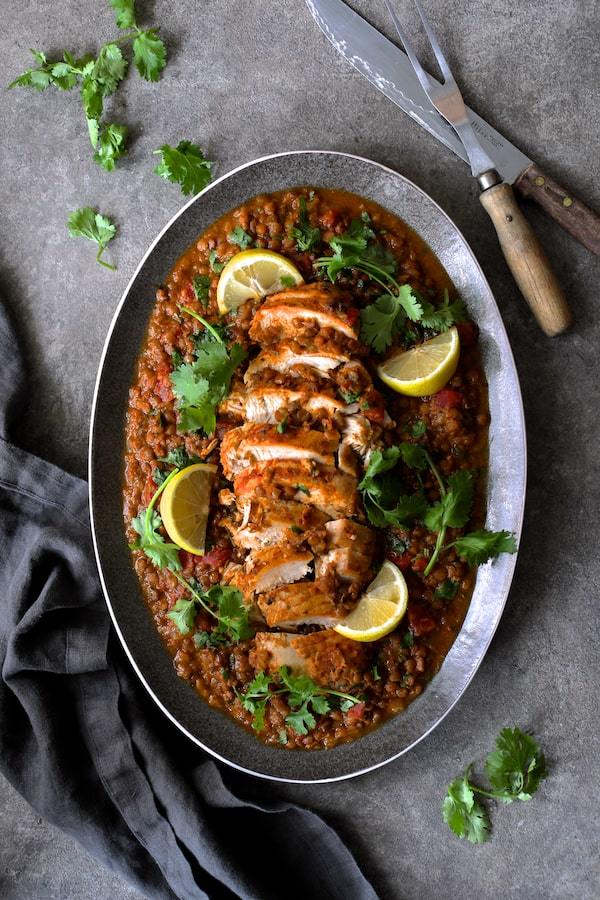 Slow Cooker Moroccan Turkey and Lentils
Recipe by From a Chef's Kitchen
Visit website
---
---
Slow Cooker Moroccan Turkey and Lentils is a delicious way to puts an exotic twist on turkey!  Perfect for the holidays or an easy dinner!
---
---
Ingredients
charmoula MARINADE
1 large onion
4 cloves garlic
2 tablespoons parsley
2 tablespoons cilantro
1 tablespoon minced ginger
1 tablespoon crushed red pepper flakes
1 tablespoon sweet paprika
1 tablespoon ground cumin
1 teaspoon salt, plus more as needed
0.5 teaspoon saffron threads
2 bay leaves
1 large lemon, juiced
0.5 cup extra-virgin olive oil
turkey AND LENTILS
1 (1 1/2 to 2 pound) boneless skinless turkey breast half
nonstick cooking spray
1 cup green lentils
2 cups chicken broth
1 can (15-ounce) diced tomatoes
0.25 cup chopped cilantro plus more for garnish
freshly ground black pepper
lemon wedges
---
Method
CHARMOULA MARINADE
Combine marinade ingredients in a 1-gallon zipper-top bag. Add the turkey breast half and massage the bag to distribute the marinade evenly over the turkey breast. Refrigerate overnight.
TURKEY AND LENTILS
Spray the insert of the slow-cooker with nonstick cooking spray. Remove the turkey breast from the marinade and place it in the slow-cooker.
Drain the excess oil from the marinade through a sieve and discard. Place remaining marinade ingredients in the slow-cooker around the turkey breast.
Add the lentils and chicken broth. Cover and cook for 4 hours on HIGH or 8 hours on LOW.
When the turkey and lentils have about a half hour to go when cooking on HIGH or an hour to go on LOW, stir in the tomatoes.
When finished, remove the turkey breast and let rest for 5 minutes before slicing. Remove bay leaves. Add cilantro to the lentils and season to taste with salt and black pepper.
Serve turkey sliced on a platter over the lentils, garnished with cilantro sprigs and lemon wedges.