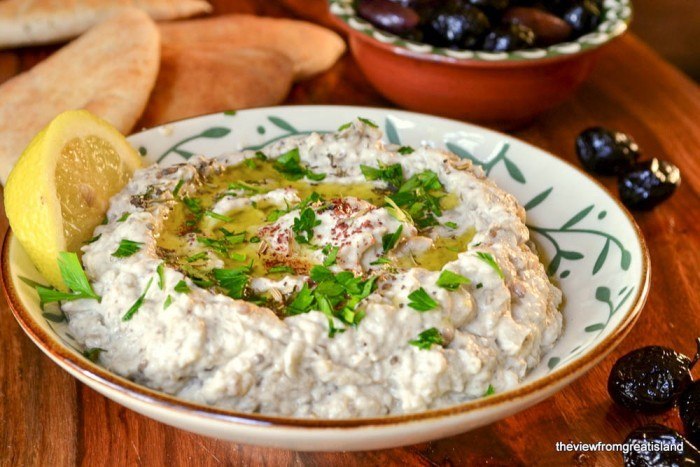 Smokey Baba Ganoush
Recipe by The View From the Great Island
Visit website
---
---
Smokey Baba Ganoush makes a delicious alternative to hummus
---
---
Ingredients
2 small to medium eggplant

1 large clove garlic

1 tsp smoked sea salt

(or regular salt)

juice of lemon

3 tbsp Tahini

½ tsp hot smoked paprika (substitute sweet paprika if you don't want heat)

for garnish

olive oil

((divided))

Fresh chopped parsley

herbes de Provence
---
---
Method
set oven to 400F
Poke the skin of the eggplant several times with a fork. Set the eggplants over an open flame to char the skin on all sides. You can do this over a gas flame on the stove top, with a kitchen torch, or under the broiler. Turn the eggplant to evenly blacken the skin. (You can skip this step if you want to.)
Put the eggplant on a foil lined baking sheet and bake for about 30 minutes, or until a sharp paring knife pierces the flesh easily.
Let cool briefly, and then cut in half. Scoop out the flesh and put in the bowl of a food processor. Leave the blackened skin behind.
Smash the garlic clove and mince it. Add the salt to the garlic and mash it with the back of the knife until it becomes a paste. Put the paste in the processor with the eggplant.
Add the lemon juice, tahini, and paprika and pulse until the mixture is pureed but still has some texture.
Taste the baba ganoush and adjust the seasonings if you need to. You may want to add a ittle more salt, lemon, or paprika.
Chill until ready to eat, the baba ganoush will improve with a little time in the fridge.
When ready to serve, spread in a bowl and even out the top so it can hold a swirl of oil. Drizzle on the oil, then sprinkle on sumac, herbes, and parsley. Serve with pita, naan, or other flat bread.