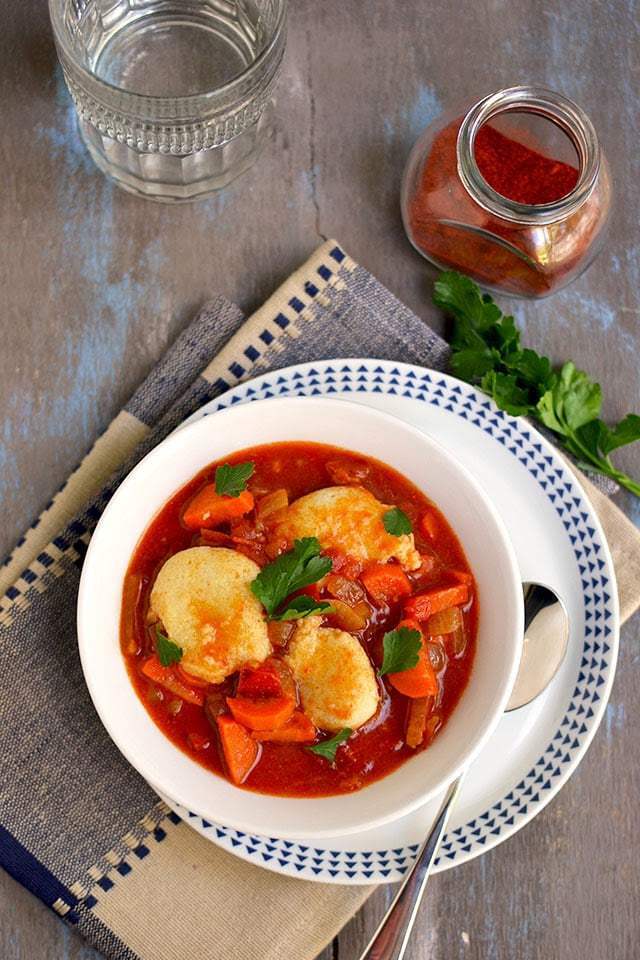 Vegetarian Paprikash with Dumplings
Recipe by Cook's Hideout
Visit website
---
---
Vegetarian Paprikash with dumplings is spicy veggie stew with eggy dumplings.
---
---
Ingredients
---
---
Method
Make the Dumplings: Bring a medium saucepan filled with water to a boil.
Whisk egg whites until foamy. Stir in the yolk and sea salt. Whisk until well combined. Stir in 1tbsp flour at a time and beat until a creamy batter forms.
Take about ½tbsp of batter and put in boiling water. Dip the spoon in cold water and repeat making the dumplings. Cover the pot and cook on medium heat for 10 minutes.
When done, turn off the heat and keep the pot covered until the stew is ready.
Make the stew: Heat 1tbsp oil in a saucepan. Add onions and saute for 2~3 minutes or until translucent. Next add carrots, red pepper and cook for 2 more minutes.
Add ½cup of water and simmer for 7~8 minutes or until the veggies are tender.
Stir in the tomatoes, bay leaf and hot & sweet paprika. Cover and cook for 10 more minutes.
In a small bowl, whisk flour and ½cup water into a smooth paste. Pour into the simmer stew and cook for 2~3 minutes or until it gets thick. Remove from the heat and stir in the chopped parsley.
Drain the dumplings and add to the stew. Serve hot!!