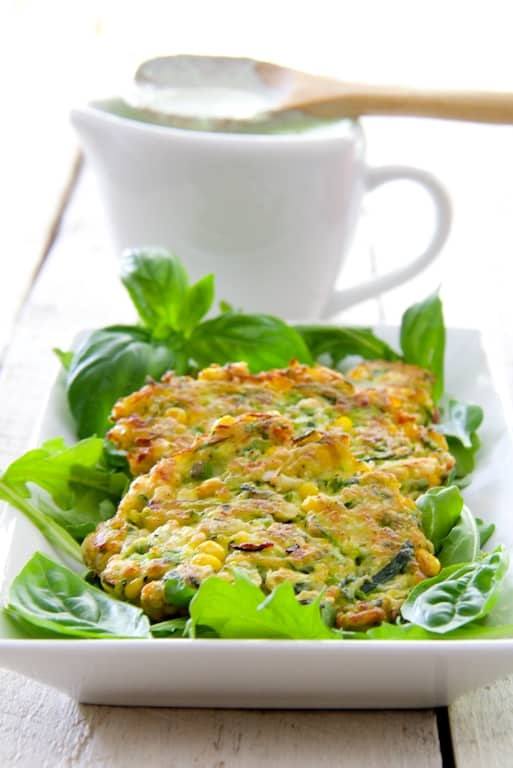 Zucchini Corn Cakes with Basil Buttermilk Sauce
Recipe by From a Chef's Kitchen
Visit website
---
---
Zucchini Corn Cakes with Basil Buttermilk Sauce are a great way to use up an abundance of zucchini and they're freezer-friendly!
---
Servings
Cuisines
Courses
---
Ingredients
cakes
2 large zucchini (1 1/2 pounds), ends trimmed
2 teaspoons salt, plus more for blanching the corn
1 large ear of corn
4 scallions, white and light green part only
2 cloves garlic
0.5 teaspoon freshly ground black pepper
cayenne pepper (optional)
0.5 cup all-purpose flour, plus more if needed
1 large egg
0.5 cup canola or vegetable oil,
sauce
1 cup buttermilk
0.5 cup mayonnaise
0.25 cup sour cream
2 large sprigs fresh basil, leaves removed, coarsely chopped
1 tablespoon chopped fresh chives or 1 small scallion, white and light green part only
1 tablespoon fresh parsley
1 clove garlic
salt and freshly ground black pepper
---
Method
CAKES
Grate the zucchini into a colander using a large-holed grater. Toss zucchini with salt. Place in the sink and let stand 30-45 minutes to drain.
Meanwhile, bring a small pot of water to a boil. Salt if desired. Add the ear of corn and cook 1-2 minutes. Remove with tongs and run under cold tap water to cool. Scrape kernels into a large bowl. Add the scallions, garlic, black pepper and cayenne pepper if using.
Squeeze as much water as possible from the zucchini. (You should have 1 1/2 — 2 cups when finished.) Place in the bowl with the corn along with the flour and beaten egg. Mix well. The batter should be sticky and hold together. Add flour if necessary.
Heat canola oil in a nonstick skillet over medium-high heat. Working in batches of two or three, place about a 1/2-cup of the zucchini mixture into the hot oil, flattening to create a pancake. Cook 3-4 minutes per side or until golden. Drain on a wire rack. Repeat with remaining zucchini mixture.
SAUCE
Combine ingredients in a food processor or blender. Process until smooth. Serve with cakes.