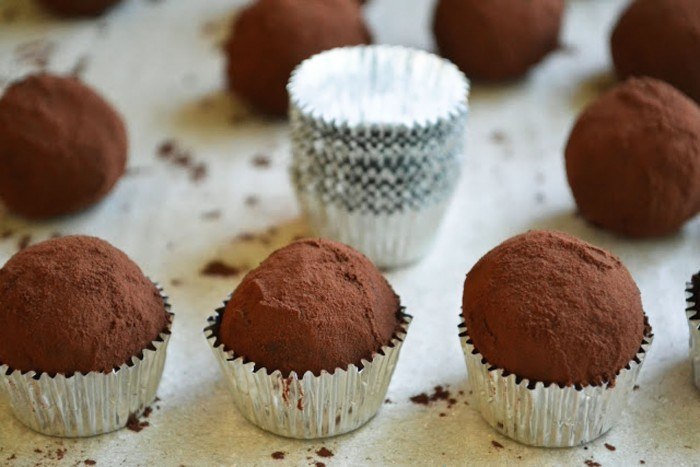 The Classic Chocolate Truffle
Recipe by The View From the Great Island
Visit website
---
---
Like a great cup of coffee, or the perfect scrambled egg, everybody needs to know how to make the Classic Chocolate Truffle!
---
Servings
makes approximately 30 small truffles
Courses
---
Ingredients
---
---
Method
Chop the chocolate as finely as possible. You can put it in a food processor or use a large sharp knife. Put it in a bowl.
Heat the cream in a small sauce pan until it is just about to boil. Pour the cream over the chocolate and let it sit for about 10 minutes.
Stir the cream and chocolate together until the mixture is smooth and silky. Add the vanilla, or any flavoring you like. Pour the mixture into a shallow baking dish, or pie plate and put in the refrigerator until set, about an hour.
Using a 1" sized scoop, form small balls and set them on a baking sheet lined with parchment. You don't have to use a scoop, it just make it easier to form and release uniform sized balls. A melon baller, or a teaspoon and your hands will work fine, too. The balls will be roughly shaped at this point, you'll roll them smooth later.
Put the sheet back in the refrigerator for about 30 minutes. (This step is optional, but the firmer balls makes coating them a little less messy.
Put the cocoa powder in a bowl. Take each truffle and roll it in your hands to form a smooth ball, then roll it in the cocoa powder to coat. I drop it right in and use a spoon to toss it around. Lay it back on the baking sheet while you finish the rest of the batch.
Keep the truffles at room temperature for a few days, or refrigerate longer. Store them in a single layer, or separate the layers with waxed paper.