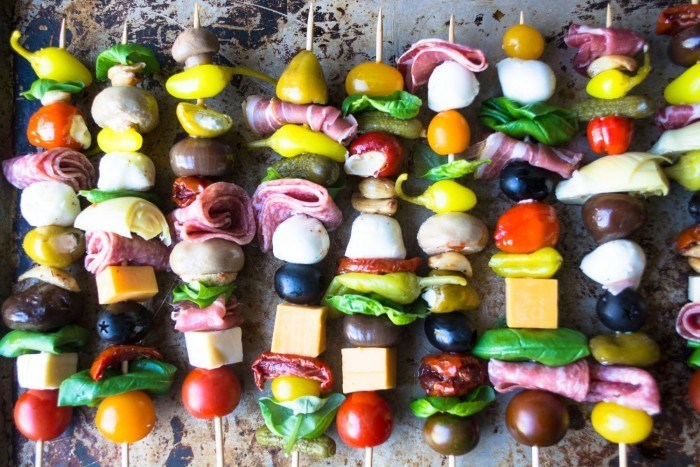 Antipasto Skewers
Recipe by The View From the Great Island
Visit website
---
---
Antipasto Skewers are a fun and easy appetizer for a crowd! These colorful skewers are a fun and healthy appetizer for any occasion!
---
---
Ingredients
fresh mozzarella balls
cheddar or smoked Gouda cheese
fresh basil leaves
pitted olives
pepperoncini
pickled onions
sliced dill pickles or gherkins
cherry tomatoes
canned or marinated artichoke hearts
assorted Italian cured meats like salami, pepperoni, and prosciutto
anything else you can find!
wooden or metal skewers, I used 8 inch wooden skewers
garnish
pomegranate molasses or balsamic glaze
---
Method
Open all your containers and set up a work assembly line. Have a hand towel nearby as your hands will get a little bit oily.
Drain cans that need to be drained, and spoon out some of the ingredients so you have easy access.
Be sure to leave enough room at the bottom of each skewer so that people can pick them up easily. I like to start with something dry like a cherry tomato for ease of handling.
You can make all the skewers alike, or thread them randomly. Fold the basil leaves in half, and then in half again if they are large. If they are small they can go on as is.
Fold sliced round meats like salami the same way as the basil. For prosciutto cut it and then roll or fold until it becomes a neat little package.
If anything is too large, cut it so that it is roughly the same size as everything else. I cut artichokes in half or even in quarters. I sliced larger marinated peppers in half. Just use your judgement, and don't worry if some things hang out a little, that's part of the charm of these skewers!
Lay the finished skewers out on a tray or a baking sheet, and cover with a damp cloth. Refrigerate.
It's best to use within an hour or two. If possible, transfer the skewers to a clean serving tray right before serving. If you like, you can drizzle the skewers with the pomegranate molasses or balsamic glaze at the last minute.