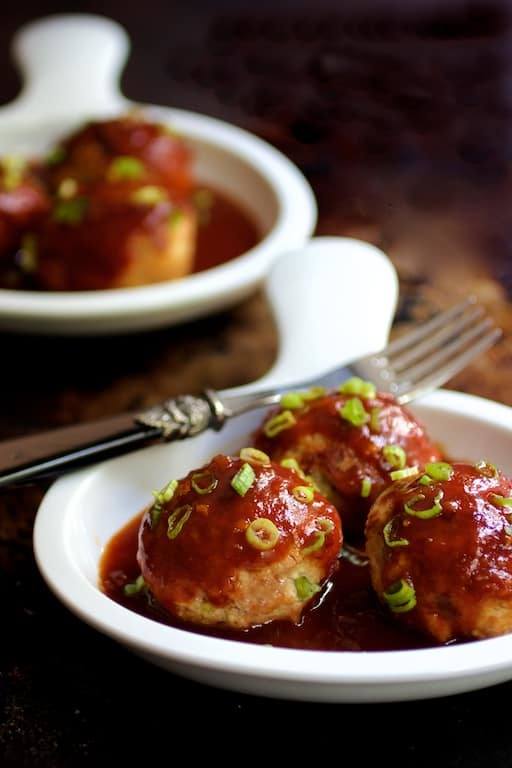 Asian Barbecue Chicken Meatballs
Recipe by From a Chef's Kitchen
Visit website
---
---
These jumbo-sized Asian Barbecue Chicken Meatballs are a fun way to change up your grilling routine and your meatball routine.
---
---
Ingredients
1 bunch scallions, white and light green part only
4 cloves garlic
1 tablespoon minced ginger
0.25 cup applesauce
2 tablespoons soy sauce
2 teaspoons Chili garlic sauce
2 teaspoons oyster sauce
1 large egg
0.75 cup panko
1 teaspoon salt
1 teaspoon freshly ground black pepper
1.5 pounds ground chicken
canola oil for grill pan
sauce
0.75 cup ketchup
0.5 cup water
0.33333333333333 tbsp brown sugar
0.25 cup soy sauce
3 tablespoons hoisin sauce
2 tablespoons rice vinegar
2 teaspoons Chili garlic sauce
2 teaspoons minced ginger
4 cloves garlic
salt and freshly ground black pepper
2 scallions, white and light green part only
---
Method
MEATBALLS
Preheat an outdoor grill to medium-high heat (approximately 375 degrees) or preheat oven to 375 degrees.
Combine first 11 ingredients in a bowl. Add the ground chicken and mix well. Brush the meatball griller with canola oil. Form into 12 jumbo-sized meatballs and place in the wells of the griller.
Place meatball griller on the grill or in the oven. Cook for 15-18 minutes or until a meat thermometer inserted in the center registers 165 degrees.
SAUCE
While the meatballs are cooking, combine sauce ingredients in a saucepan. Bring to a simmer and cook 10-12 minutes or until heated through.
Serve sauce over meatballs. Garnish with sliced scallions.