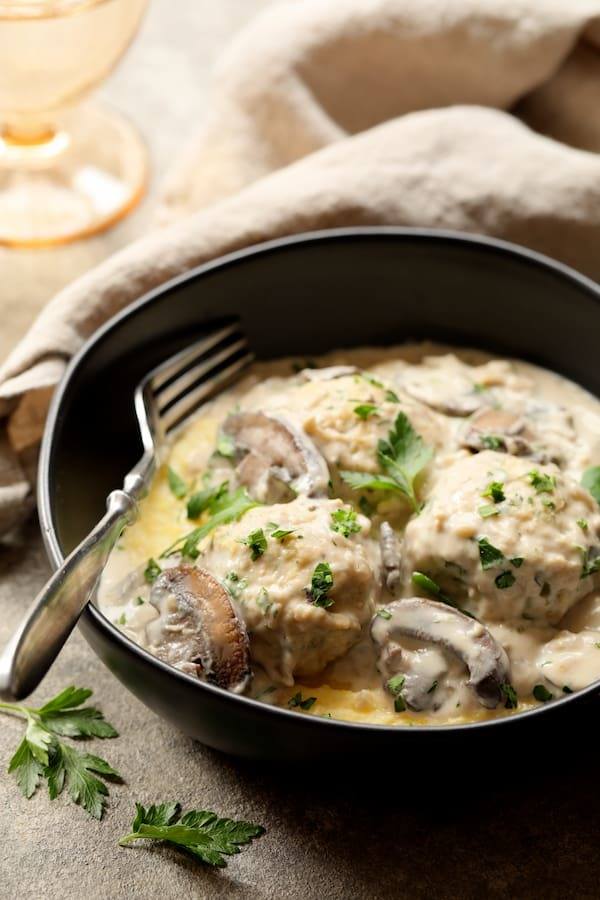 Chicken Meatballs Marsala with Baked Parmesan Polenta
Recipe by From a Chef's Kitchen
Visit website
---
---
Chicken Meatballs Marsala with Baked Parmesan Polenta is comforting, delicious and is sure to bring a taste of Italy to your table!
---
---
Ingredients
polenta
nonstick cooking spray
3 cups chicken broth
1 cup half-and-half
0.75 cup polenta
1 teaspoon salt
freshly ground black pepper
3 tablespoons butter
1 cup freshly grated Parmesan cheese
meatballs
nonstick cooking spray
2 tablespoons olive oil
2 tablespoons butter
1 medium onion
4 cloves garlic
2 tablespoons fresh parsley
2 tablespoons Marsala wine
0.25 cup milk
0.5 cup panko bread crumbs
1 large egg
1 teaspoon salt
freshly ground black pepper
1 pound ground chicken
sauce
2 tablespoons butter
1 package (8-ounce) rice noodles
0.25 cup all-purpose flour
0.75 cup Marsala wine
2 cups chicken broth
2 teaspoons Worcestershire sauce
0.5 cup heavy cream
2 tablespoons chopped fresh parsley plus more for garnish
salt and freshly ground black pepper
---
Method
POLENTA: Preheat oven to 350 degrees. Spray a 2-quart baking dish with cooking spray.
Combine chicken broth, half-and-half, polenta and salt and black pepper to taste in the baking dish. Stir to combine.
Microwave uncovered on high for 3 minutes. Stir again, cover and place in the oven.
Bake 30-35 minutes or until all the liquid is absorbed. Stir in cheese and butter. Serve with meatballs.
MEATBALLS AND SAUCE: Spray a non-stick baking sheet with cooking spray. Set aside.
Heat oil and butter in a small sauté pan over medium-high heat. Add the onion, reduce heat to medium and cook 6-7 minutes or until onion is tender. Add garlic and cook 15 seconds or until fragrant. Transfer half of the onions to a mixing bowl and take remaining onions in the pan off the heat temporarily. Let onions in bowl cool 5 minutes before adding other ingredients.
To mixing bowl with onions, add half the parsley, 2 tablespoons marsala, milk, panko, egg, salt, black pepper and mix well. Add ground chicken and mix well again.
Form chicken mixture into 12 large meatballs and place on prepared baking sheet. Bake 20 minutes or until a meat thermometer inserted into the center registers at least 165 degrees.
SAUCE: While meatballs are baking, add the butter to pan with remaining onion-garlic combination and bring back up to medium-high temperature. Add the mushrooms then reduce heat to medium and cook 5-6 minutes or until mushrooms are brown and tender.
Add flour and cook 1-2 minutes.
Add marsala, whisking constantly for 1 minute. Slowly add chicken broth, Worcestershire and heavy cream. Bring back to a boil then reduce heat to medium-low and simmer 5-10 minutes or until thickened. Transfer meatballs back to the pan and heat through. Add parsley, salt and black pepper to taste. Serve over meatballs with polenta. Garnish with additional parsley.