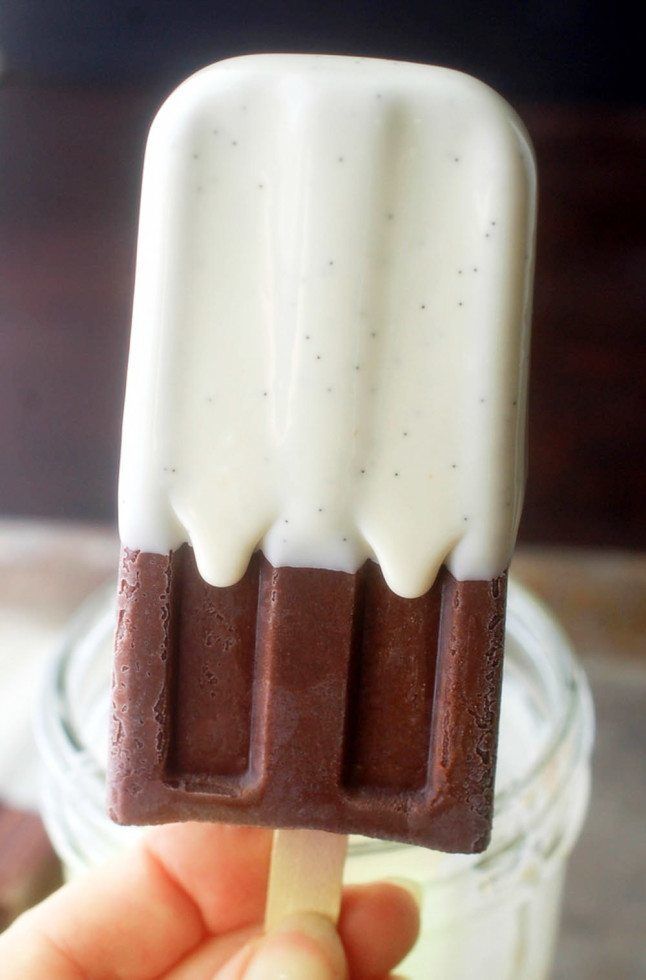 Dutch Cocoa Popsicles with Vanilla Bean Magic Shell
Recipe by The View From the Great Island
Visit website
---
---
These dutch cocoa popsicles with vanilla bean magic shell are a gourmet twist on the original, the inside is an impossibly dark creamy fudge, dipped  in a layer of vanilla bean flecked white chocolate that crackles when you bite into it!
---
Servings
makes 10 popsicles
Courses
---
Ingredients
for the Dutch Chocolate Popsicle

3 oz unsweetened chocolate

(cut in small pieces )

3 cups whole milk

2 tbsp cornstarch

¾ cup sugar

3 tbsp Dutch cocoa powder

1 tsp vanilla extract

for the Vanilla Bean Magic Shell

11 oz bag of white chocolate chips

3 tbsp coconut oil

(not virgin)

1 vanilla bean
---
---
Method
To make the popsicles: melt the chopped chocolate in a microwave safe dish for 30 seconds, then stir. If it's not completely melted, zap it again in 15 second bursts. Stir until smooth.
Heat the milk, cornstarch, sugar and cocoa powder in a saucepan. Whisk to combine everything as you heat. When the milk starts to warm, add all the melted chocolate. Keep whisking or stirring until the mixture thickens and just comes up to a bubble. It will take somewhere around 12 minutes. Once it boils, take it off the heat and add the vanilla extract. Set aside to cool slightly.
Fill your popsicle molds with the fudge mixture and put it in the freezer. Let freeze for 90 minutes, and then insert the sticks into the molds. Continue to freeze until solid, 4-5 more hours.
To make the Vanilla Bean Magic Shell, melt the white chips and the coconut oil, which will be in a solid form, in a microwave safe bowl. Start with 30 seconds and continue in short 15 second bursts, stirring in between, until it is JUST melted. Stir to completely melt any lumps. Be careful not to overheat white chocolate, it can be finicky. Scrape the seeds from the vanilla bean into the melted chocolate. Stir to disperse them.
Pour the magic shell into a container such as a wide mouthed mason jar. Store at room temperature until you need it. If it hardens, just give it a few seconds in the microwave and stir.
To remove the popsicles from the mold, fill your sink with hot water. Immerse the mold up to, but not over, the top edge for 15 seconds. If the pops don't slide out easily, immerse for a few more seconds.
Either dip the popsicles into the magic shell immediately, or put the pops in plastic baggies back in the freezer. To coat the pops, just dip right into the white chocolate. The coating will harden in seconds. You can set the pops down on waxed paper,. Once the coating is hard you can eat, or put the pops in baggies for the freezer.