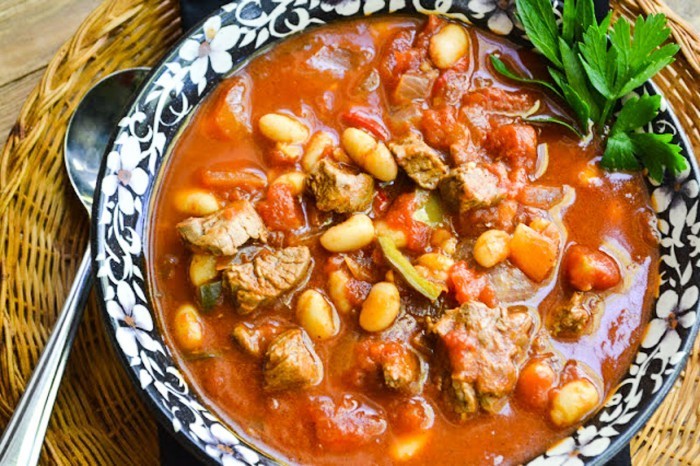 Filet Mignon Chili with Masa Biscuits
Recipe by The View From the Great Island
Visit website
---
---
FILET MIGNON CHILI WITH MASA BISCUITS ~ tender filet Mignon steak makes this easy one pot chili extra special ~ no one will go away hungry!
---
---
Ingredients
0.75 lb filet mignon, cut into small bite sized pieces
olive oil
1 spanish onion
2 hot peppers, such as jalapeno or Serrano, sliced, seeds and all
2 mild peppers, such as poblano, or cubanelle, seeded and chopped
2 large cloves garlic
26 oz canned tomatoes
1 oz 8 can of tomato sauce
1 bottle of beer
1 heaping tsp cumin
3 heaping tsp chili powder
1 tsp salt
1 oz 15 can of white beans
0.33333333333333 cup water
2 tbsp masa harina
sour cream for garnish
masa Harina Biscuits
1 cup (5 ounces) masa harina
1 cup buttermilk
1 tbsp honey
2 cups (10 ounces) flour
1 tbsp baking powder
0.5 tsp baking soda
1 tsp salt
12 tbsp (1 and 1/2 sticks) cold unsalted butter cut in pieces
---
Method
Coat the bottom of a heavy stew pot with olive oil. Heat the oil and then brown the meat for a couple of minutes until browned on all sides. Remove to a bowl.
Add a little more oil to the pan and saute the onions and peppers for a few minutes. Then add the garlic and saute for a minute more.
Add in the tomatoes, tomato sauce and beer. Stir to combine. Add the meat back into the pan.
Stir in the spices and bring to a simmer. Simmer for about 15 minutes.
Add in the beans, and check the seasonings. Let the chili cool and then refrigerate until you are ready. It will benefit from the resting time.
When ready to serve, bring the chili up to a simmer, and taste. It might need more salt or even more chili powder.
Mix the water and masa harina together and pour about half into the chili while you are stirring. It will thicken immediately. Add the rest if you want a thicker consistency.
Serve with sour cream and biscuits.
To make the biscuits, preheat the oven to 450F
Line a baking sheet with parchment paper.
Whisk the masa harina, buttermilk and honey together in a large bowl and set aside.
Add the dry ingredients to the bowl of a processor along with the butter pieces and pulse about 10 times until the mixture resembles a coarse meal.
Add the buttermilk mixture and pulse just enough to bring the dough together.
Turn out onto a floured board and knead about 10 times until the dough is workable. Add in extra flour if it's too wet.
Pat into a 9 inch round and cut out about 8 biscuits with a 2 1/2 to 2 3/4 inch biscuit cutter.
Bake for 5 minutes, until they just start to rise, and then turn down the heat to 400, and bake for another 8 to 10 minutes, until golden.
Cool on a rack.