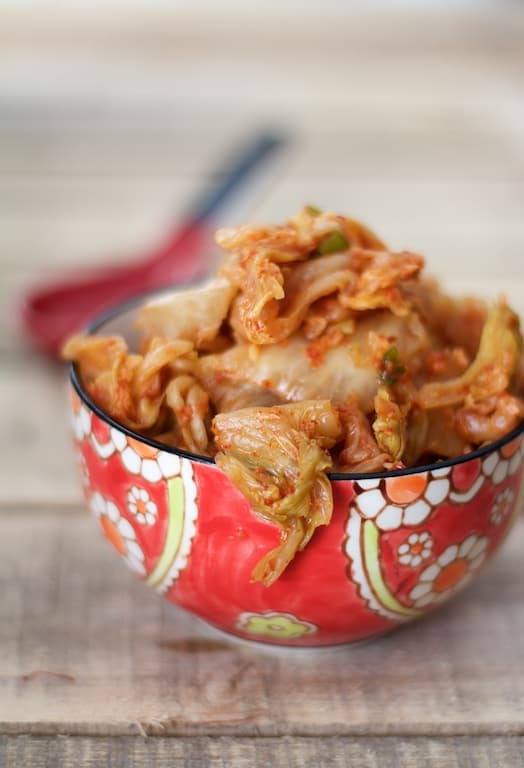 Homemade Kimchi
Recipe by From a Chef's Kitchen
Visit website
---
---
Here's an easy version of homemade kimchi that keeps for weeks in your refrigerator!
---
---
Ingredients
2-3 pounds Napa or Chinese cabbage
2-3 tablespoons coarse sea salt
0.25 cup unseasoned rice vinegar
2 tablespoons Korean red pepper
2 tablespoons honey (or to taste), preferably raw unpasteurized
2 tablespoons minced ginger
1 bunch scallions, white and light green part only, sliced into 1-inch pieces
---
Method
DAY 1: Slice cabbage into 2-inch thick rounds, leaving stem end and bottom core behind. Loosen into a stainless steel bowl. Sprinkle with sea salt and toss to combine.
Set a plate over the cabbage and another heavy object such as a cast iron skillet on top to weigh it down. Set aside for 24 hours. Drain off excess water a couple of times.
DAY 2: Rinse the cabbage well under cold running water. Squeeze out as much water as possible. Add the rice vinegar, red pepper, honey, ginger and scallion and toss well to combine. Adjust rice vinegar and honey to taste. Cabbage should be somewhat covered with liquid.
Place in a large non-reactive container such as a glass jar. Close the lid and leave at room temperature for 3 days.
DAY 5: Place in refrigerator for 4 days. Then, enjoy!