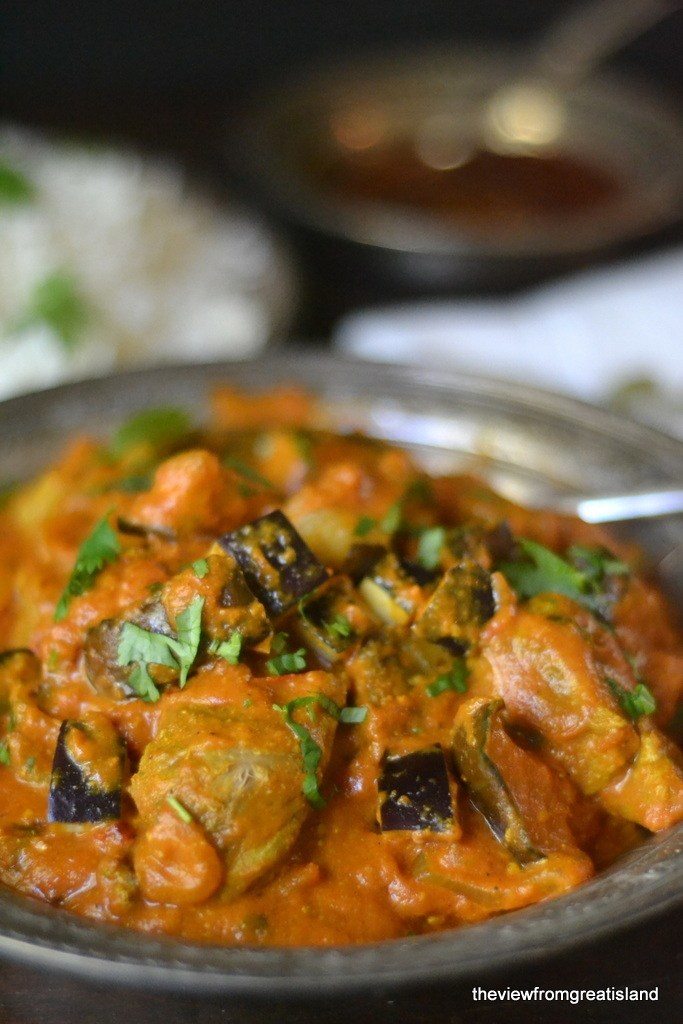 Lamb and Eggplant Tikka Masala
Recipe by The View From the Great Island
Visit website
---
---
Lamb and Eggplant Tikka Masala-tikka masala is the most popular Indian dish on the planet, and with good reason...it's creamy, aromatic, and so satisfying!
---
---
Ingredients
for the lamb

1 lb good quality lamb

(cut in large pieces)

½ cup Greek yogurt

1 tsp Turmeric

1 tsp coriander

1 tsp cumin

1 tsp Garam Masala

1 tsp salt

2 cloves garlic

(minced)

1 tbsp fresh grated ginger

for the sauce:

3 tbsp olive oil

1 medium white or yellow onion

(thinly sliced)

2 tbsp tomato paste

10 cardamom pods

(crushed)

4 small dried hot chilies

( crushed, seeds and all, adjust to suit your taste)

2 cloves garlic

(minced)

1 tbsp fresh grated ginger

1 tsp Turmeric

1 tsp cumin

1 tsp coriander

1 tsp tsp garam masala

1 tsp salt

28 oz can of good quality crushed tomatoes

(you can use whole tomatoes and crush them yourself)

1 medium eggplant

1 cup full fat coconut milk

2 tbsp of chopped fresh cilantro

(plus more for garnish )
---
---
Method
Put the lamb, yogurt, and spices in a bowl and mix until everything is well combined and the lamb is completely coated.. Cover and refrigerate for a few hours (or even better, overnight) to marinate.
Put the meat on a foil covered baking sheet (leave the yogurt coating on) and put under the broiler for about 10 minutes until the surface starts to char. The lamb will not be completely cooked, it will finish cooking in the sauce. Set the meat aside.
For the sauce, heat the 3 Tbsp olive oil in a heavy bottomed pot and saute the onions, tomato paste, spices, garlic and ginger and salt for abut 10 minutes, stirring often so it won't scorch.
Add the crushed tomatoes to the pot and continue cooking for another 10 minutes, scraping up any bits from the bottom of the pan.
Meanwhile cut the eggplant in large bite sized chunks. Heat a cast iron skillet (or similar pan) over medium high heat. Add the eggplant (with no oil) to the pan and saute, stirring often to prevent sticking, until the eggplant is softened and browned, but still firm, about 10 minutes.
Add the coconut milk, cilantro, lamb and eggplant to the sauce and cook gently for about 30 minutes. You can partially cover the top if the sauce seems thick.
Check the seasonings and adjust if necessary. Garnish with more cilantro, and serve with basmati rice and yogurt..