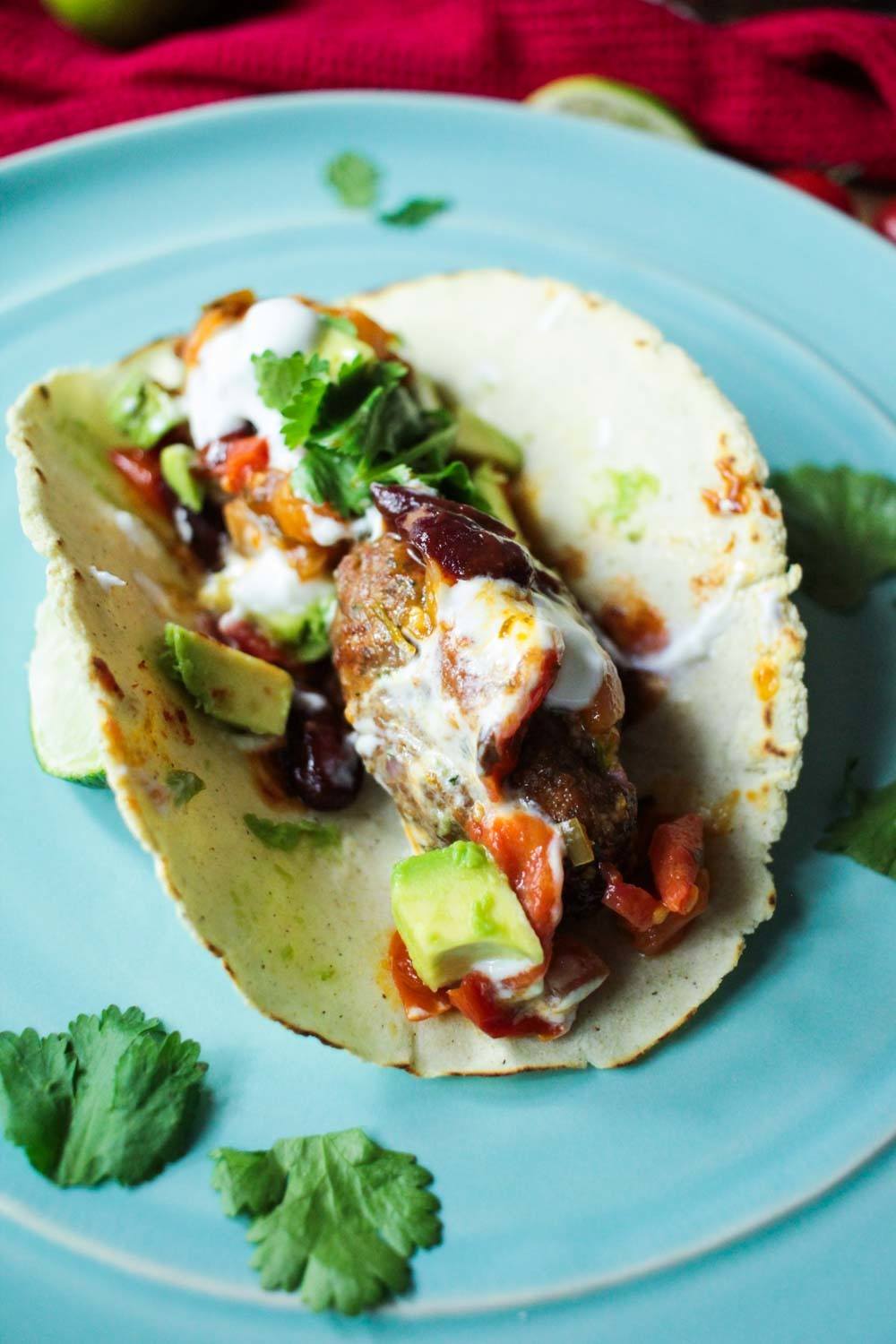 Lamb Kofta Tacos
Recipe by Globe Scoffers
Visit website
---
---
---
---
Ingredients
400 g lamb mince
0.5 small red onion
1 green chilli
1 tbsp ground cumin
1 tbsp ground coriander
1 tsp chipotle chilli powder
1 tbsp tomato puree
2 clove of garlic
1 lime juice
30 g pistachio
1 tbsp fresh coriander
salt and pepper
1 avocado
200 g Red Kidney beans
150 g yogurt
6-8 small corn tacos
1 green chilli
3 big tomatoes
0.5 red onion
1 tbsp fresh coriander
1 pinch sugar
salt and pepper
---
Method
Preheat the oven to 200°C / 180°C fan / gas mark 6.
Mix all the kofta ingredients in a large bowl using clean hands and combine it all together to form a ball.
Form your koftas into small sausage shapes and thread onto the skewers. Note if you are using wooden skewers they will need soaking for 10 minutes. Place two koftas onto each skewer. You should have 6 skewers in total.
Lay the koftas over the top of a baking dish so the skewers are resting on each side and the meat is in between. Place in the oven for 15 minutes.
While your koftas are cooking, make your salsa.
In a saucepan heat a small amount of oil, then cook the onions and chillies for about 3 minutes.
Add the chopped tomatoes, coriander, sugar, salt and pepper then give it good stir. Place the lid on and turn down the heat to the minimum. Leave for 10 minutes or until the tomatoes are soft.
Cut your avocado into cubes and heat your red kidney beans on the hob for about 3 minutes.
To plate your taco, place two koftas in the centre of the taco by sliding them off the skewer. Add a spoon full of beans, avocado, salsa, yogurt and finish with some fresh coriander. Serve and enjoy!