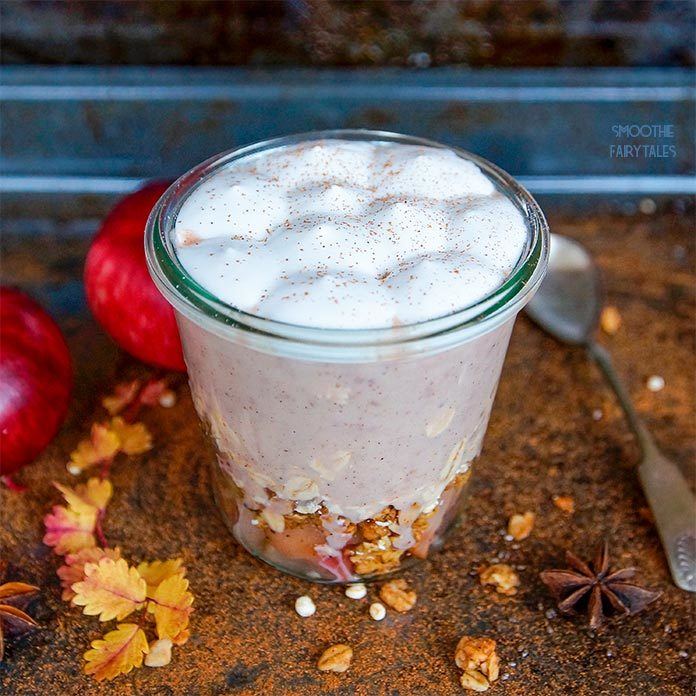 Layered Apple Pie Smoothie Dessert
Recipe by Smoothie Fairytales
Visit website
---
---
The best apple pie smoothie recipe ever! It's super delicious! It makes a perfect snack, meal replacement or can be served as a healthy dessert.
---
---
Ingredients
4 apples

((medium size))

1 tbsp maple syrup

((or honey))

cinnamon

((for sprinkling on top of apples))

3 baked apples

¼ cup yogurt

((preferably vanilla flavoured))

¼ cup apple juice

((without added sugar))

1 tsp ground cinnamon

½ tsp cardamom

¼ tsp ground cloves

¼ tsp nutmeg

sweetener to taste

((optional))

2 cups baked apple smoothie

1 baked apple

2 tbsp granola

2 tbsp oats

¼ cup vanilla whipped cream

((for topping))

1 pinch ground cinnamon

((for decoration))
---
---
Method
Preheat the oven to 200°C (or 400°F).
Cut and core 4 apples.
Next, put the apple chunks on a baking tray lined with parchment paper.
Brush the apples with maple syrup and sprinkle with cinnamon.
Put apples in the oven and roast the apples for about 20 minutes (click on the link to switch on the timer).
Let cool down for about 20 minutes and use your baked apples for the best apple pie smoothie ever.
While waiting for the baked apples to cool down, prepare the first two layers in the smoothie jar and whip the cream. If you don't want to beautifully decorate your jar with whipped cream, you can simply pour the cream on top of the smoothie. It will taste great anyway.
Cut one baked apple into chunks and place them on the bottom of each jar. it doesn't matter that this apple is still warm. It will have enough time to cool down while we are preparing the smoothie.
Add some granola and oats on top of the apples.
Whip the cream and put it in the fridge so it doesn't melt.
When the apples have cooled down, it's time to prepare the apple pie smoothie.
Pour the yogurt and the apple juice into the blender jar.
Add the baked apples and the spices.
Process until completely smooth. If the texture is too thick, add more yogurt, juice or some water (if you want to avoid additional calories).
Pour about 1 cup (or as much as you glass or jar allows) of apple pie smoothie on the granola and oat layer. Remember to leave some space for the whipped cream.
Decorate your apple pie smoothie jar with whipped cream and sprinkle with ground cinnamon.
Consume immediately or keep in the fridge for up to 24 hours.