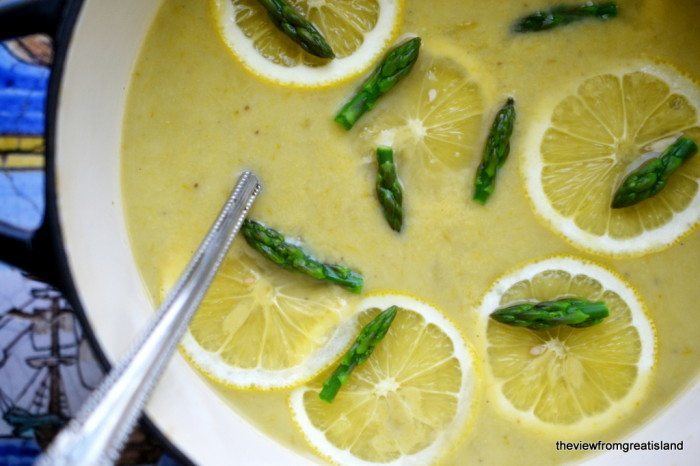 Lemony Asparagus Soup
Recipe by The View From the Great Island
Visit website
---
---
This lemon asparagus soup will give you another excuse to gorge on the fresh, in-season asparagus available this time of year. It's just the picture of spring, if you ask me.  
---
---
Ingredients
---
---
Method
Trim the tough outer leaves and the end off the leek and slice the white part and a little of the tender green part. Wash thoroughly and pat dry. Melt the butter in a heavy bottomed soup pot and saute the leek for about 10 minutes, stirring often, until softened.
Trim the ends off the asparagus stalks and discard. Slice the stalks in 1 inch pieces, reserving a few tips for garnish. Add the asparagus to the pot, along with the stock, celery seed, salt and pepper. Bring up to a boil and then turn down the heat and simmer until the asparagus is just tender, about 15 minutes.
Puree the soup, in batches, in a food processor and then pour the soup back into the pot.
Mix the lemon juice with the beaten eggs. Ladle a little of the hot soup into the egg mixture, whisking continuously. Ladle in another portion of hot soup into the egg mixture and whisk well. Then pour it all back into the soup pot, whisking the entire time. Take the soup off the heat and taste to check the seasonings. Adjust if necessary and serve with slices of lemon and asparagus tips for garnish.