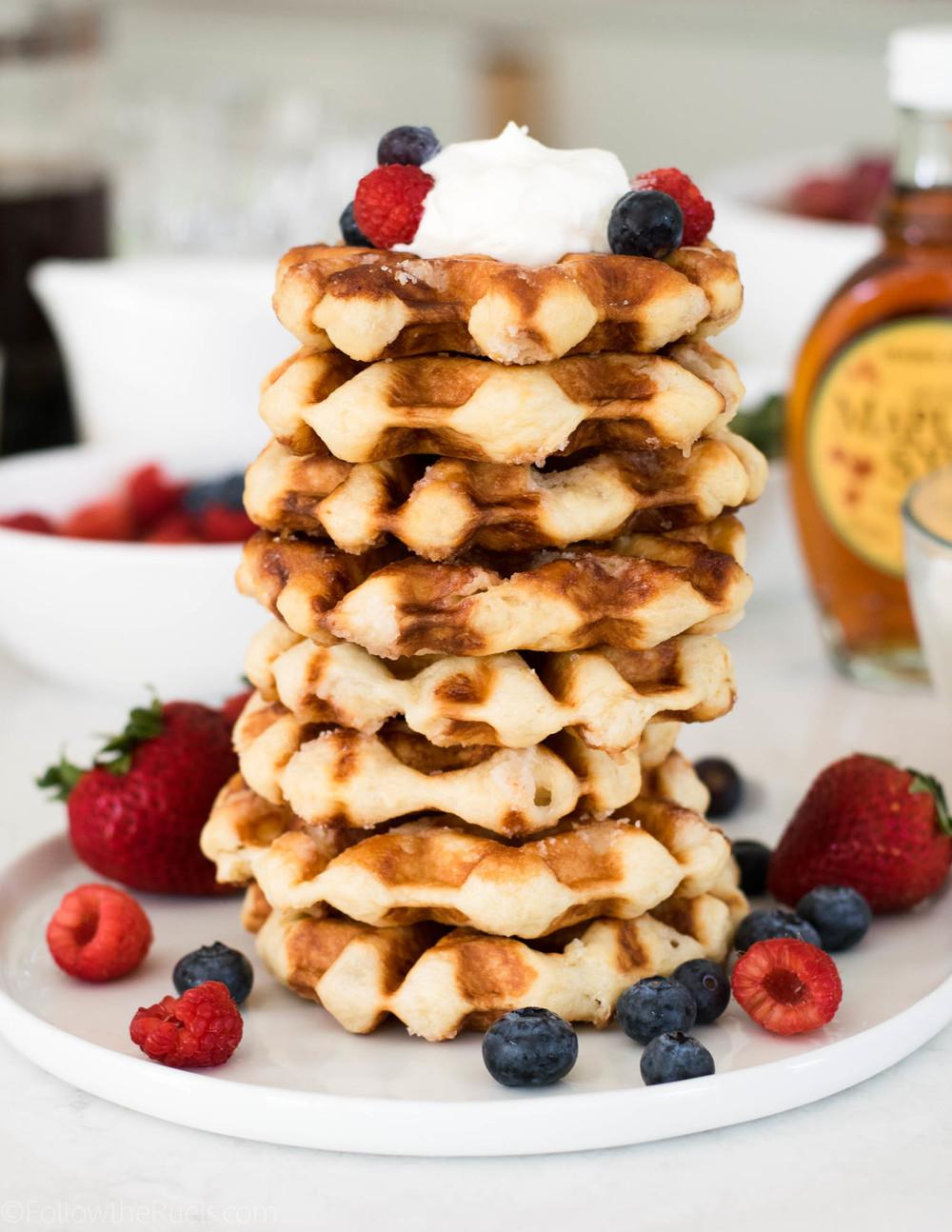 Liege Waffles
Recipe by The Honey Blonde
Visit website
---
---
You haven't had a true Belgian waffle until you have had a Liege waffle.
---
---
Ingredients
---
---
Method
In a small bowl or measuring cup, mix together the milk, sugar, and yeast. Let sit for 10 minutes, until yeast has bloomed and formed a foam on top of the milk.

In the bowl of a stand mixer with the paddle or dough hook attached, mix together 2 cups of flour and salt. Pour in the yeast-milk mixture and vanilla and mix until a dry shaggy dough forms.

Mix in the eggs one at a time. Then mix in the butter. The resulting dough will be very sticky and loose. Either change to the dough hook attachment, or turn the dough out onto a clean surface and knead with remaining 1/4 cup flour until smooth.

The dough will still be very sticky. Use a bench scraper or spatula to get all the dough off the surface of the counter or the inside of the bowl. Form the dough into a ball and place in a greased bowl.

Cover with a dish cloth or plastic wrap and let rise in a warm spot until doubled in size. About 2 hours. Punch down the dough and fold in the pearl sugar. Form into individual sized balls of dough, approximately 2 oz in weight.

Let sit, covered, for another 15 minutes while the waffle iron heats up. Spray the waffle iron with non-stick cooking spray. Place one ball of dough in the center of the waffle iron and close.

Let cook for 5 to 7 minutes, or until the waffle is golden brown and the pearl sugar on the surface has melted and caramelized. Remove from waffle iron and place on a plate.

Keep warm in a 250 degree oven. Alternately, cool to room temperature, and store in ad airtight container or bag until ready to serve. Reheat in the oven at 300 degrees for about 10 minutes.