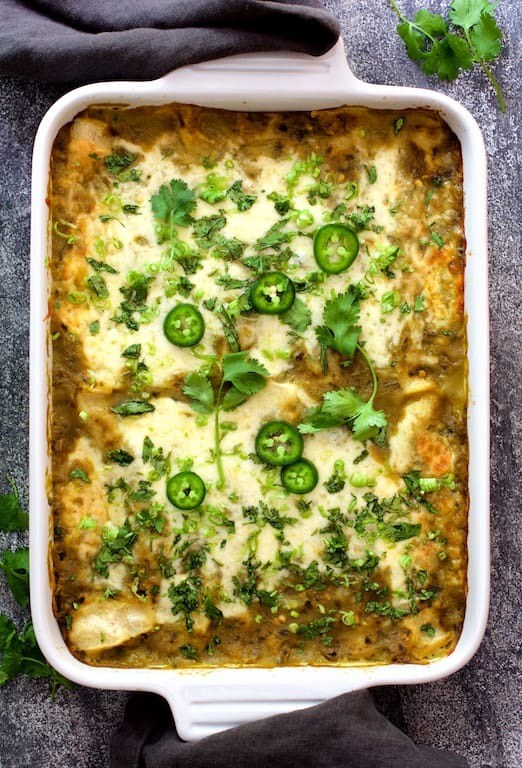 Lima Bean and Potato Enchiladas with Green Chile Sauce
Recipe by From a Chef's Kitchen
Visit website
---
---
Lima Bean and Potato Enchiladas with Hatch Green Chile Sauce! Once you make these, your enchilada life will never be the same!
---
---
Ingredients
filling
2 tablespoons canola or vegetable oil
1 large onion
1 large Russet potato, peeled and cubed
1 bag (12-ounce) baby lima beans
1 jalapeño pepper
4 cloves garlic
1.5 cups vegetable or chicken broth
0.25 cup cilantro
salt and freshly ground black pepper
1 cup shredded Monterey Jack Cheese
sauce
1 tablespoon canola or vegetable oil
4 cloves garlic
2 teaspoons ground cumin
2 teaspoons Mexican oregano
3 tablespoons all-purpose flour
3 cups chicken broth
2 cups roasted, peeled and seeded New Mexico or Hatch green chiles
0.25 cup chopped fresh cilantro
salt and freshly ground black pepper
to FINISH
non-stick cooking spray
10-12 corn tortillas
8 ounces Monterey Jack cheese
cilantro
jalapeno slices
sliced scallion
---
Method
FILLING
Heat oil in a large saucepan over medium-high heat. Add the onion and cook 5-8 minutes until onion is beginning to soften. Transfer HALF the onion to another saucepan and set that one aside.
In the FIRST saucepan, add the potato, lima beans, jalapeno, garlic, and vegetable or chicken broth. Bring to a boil and simmer uncovered for 12-15 minutes or until the potato is tender. Take it off the heat and let it stand for 5-10 minutes.
Using a potato masher or immersion blender, coarsely puree the filling leaving bits of potato and lima bean for texture. Set aside.
SAUCE
To the saucepan you set aside with half the onion: Add the oil, garlic, cumin, oregano and flour and cook over low heat for a minute or two. Slowly add the chicken broth, stirring constantly. Add the chiles and simmer for 10 minutes on medium-low heat until the sauce is thickened. Adjust seasoning with salt and black pepper.
Using an immersion blender, process the sauce until smooth.
TO FINISH:
Preheat oven to 375 degrees. Spray a large baking dish with cooking spray. Spread approximately 1 cup of sauce over the bottom of baking dish. Working in batches, place 3-4 tortillas on a plate. Top with a damp paper towel. Place in the microwave and heat on high for 30-45 seconds.
Fill each tortilla with even amounts of the filling and roll up. Place on the sauce and keep rolling until all the filling is used.
Top with remaining sauce and cheese. Cover with foil and bake 45 minutes. Uncover and continue baking another 15-20 minutes or until bubbling. Garnish with chopped cilantro, jalapeno slices and scallion. Serve immediately.