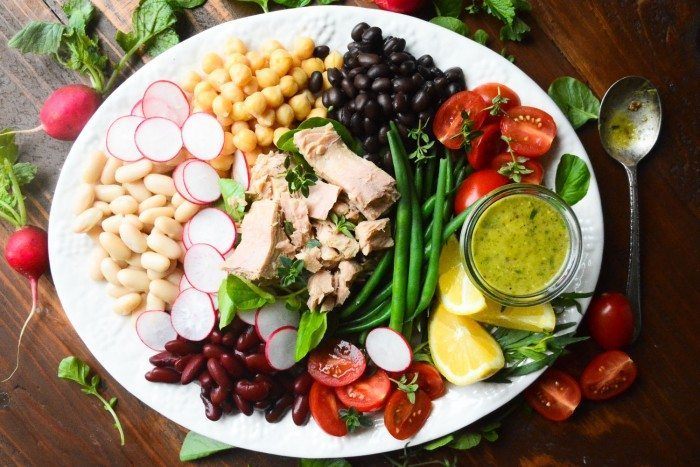 Mediterranean Tuna Salad with Tarragon Vinaigrette
Recipe by The View From the Great Island
Visit website
---
---
This Mediterranean Tuna Salad with Tarragon Vinaigrette is bursting with the vibrantly healthy flavors of the sunny Mediterranean!
---
Servings
serves 2 generously
Cuisines
Courses
---
Ingredients
1 5-oz can of Genova Yellowfin Tuna, packed in olive oil
a handful of watercress, rinsed and dried
0.5 cup canned black beans, well rinsed
0.5 cup canned cannellini beans, well rinsed
0.5 cup canned garbanzo beans, well rinsed
0.5 cup canned black beans, well rinsed
0.5 cup red kidney beans, canned, well rinsed
large handful of fresh green beans
3 or 4 radishes, sliced paper thin
about 10 cherry tomatoes
several basil leaves
fresh thyme sprigs
fresh tarragon sprigs
lemon wedges
tarragon vinaigrette
2 tablespoons (a fistful) fresh tarragon
4 tbsp olive oil
2 tbsp champagne vinegar
1 tsp grainy Dijon mustard
0.25 tsp salt
0.25 tsp fresh cracked black pepper
---
Method
Drop the green beans in a pot of boiling water and let blanch for a minute or two, depending on the size of your beans. You want them to be bright green and just starting to get tender. Fresh beans cook up very quickly. Drain them and immediately immerse them in a bowl of ice water. Let sit until cold, then drain and pat dry,
Choose a plate or platter large enough so that each element of the salad has a spot of its own and arrange the canned beans in sections around the outside of your plate.
Put a small mound of watercress in the center and top the the tuna. Remove it from the can carefully, trying not to break it up too much.
Arrange the tomato halves and green beans on the plate. Scatter the radishes and fresh herbs across everything. Tuck in the lemon wedges and maybe a sprig or two of tarragon.
Just before serving, drizzle liberally with the vinaigrette.
To make the vinaigrette, remove any thick stems from the tarragon and place it in a small food processor. Pulse to finely chop it, scraping down the sides of the machine as necessary.
Add the rest of the ingredients to the bowl and puree. Taste the dressing and adjust any of the elements to your liking.