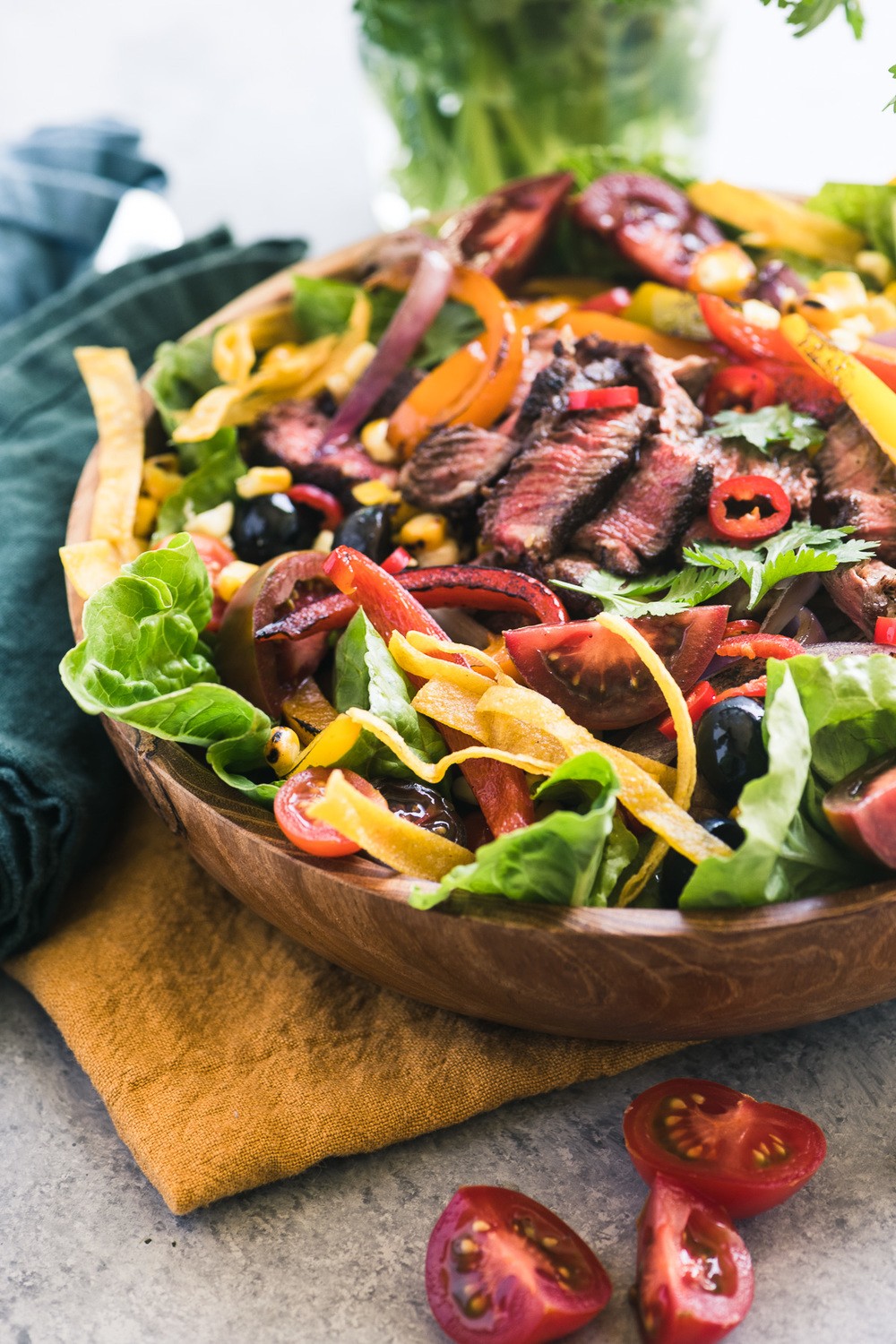 Mexican Fajita Steak Salad
Recipe by The View From the Great Island
Visit website
---
---
Mexican Steak Fajita Salad ~ a main course salad with tender steak, seared peppers and onions, homamde fajita seasoning, and homemade tortilla strips!
---
---
Ingredients
salad

7 ounces romaine hearts

(or other crunchy lettuce)

1 lb steak, I used boneless ribeye, but flank or skirt steak will work great. So will sirloin.

olive oil

2 cups colorful bell pepper strips

(about 2 peppers)

½ red onion

(cut in thin slices)

1 ear yellow corn

¼ cup black olives

a few small or cherry tomatoes

(halved or cut in wedges)

tortilla strips

2 corn tortillas

olive oil

salt

dressing

½ cup Mexican crema sauce

juice of 1 lime

large handful fresh cilantro

½ tsp fajita seasoning

pinch salt

fajita seasoning

2 tsp chili powder

(I used chipotle)

1 tsp ground cumin

1 tsp smoked paprika

(or sweet if you prefer)

1 tsp onion powder

1 tsp garlic powder

1 tsp sugar

½ tsp ground oregano

½ tsp cayenne pepper

(less for less heat)

½ tsp salt

½ tsp fresh ground black pepper

garnish

cilantro leaves

sliced jalapeños
---
---
Method
To make the fried tortilla strips, slice the two tortillas in half and then into 1/4 inch strips.
Heat a tablespoon of olive oil in a large skillet and when it's hot, add the tortilla strips. Fry them for a few minutes, stirring and flipping often, until they're golden and crispy. Drain on paper towels and lightly season with salt.
To make the fajita seasoning blend all the ingredients together well.
To make the dressing put all into a small food processor and process until smooth. Taste to adjust anything.
Pat the steak dry and rub on both sides with fajita seasoning. Heat a tablespoon of oil in a skillet on high heat and when it is really hot, add the steak. Cook, on highest heat, for about 3 minutes per side, or until done the way you like it. Remove the steak and let rest under foil for 10 minutes.
Wipe out the pan, add 1 more tablespoon oil, and, when it's nice and hot, sear the onions. Remove to a plate and do the same with the peppers (no need to wipe the pan again.)
If you have a gas stove blister the corn right over the flame, carefully holding it with tongs until the kernels start to pop and char. If you don't have a gas burner, blister the corn in the hot skillet. Put the corn into the microwave for 2 minutes, just to take the raw edge off. Let cool until you can handle it, and then slice the kernels off the cob.
Arrange the lettuce on the bottom of a large shallow salad bowl. Slice the steak against the grain into thin slices. Arrange the steak in the center of the salad, surrounded by the onions and peppers, corn, olives, tortilla strips, and tomatoes.
Top with dressing, or serve the dressing on the side. Garnish with fresh cilantro leaves and sliced jalapeños.