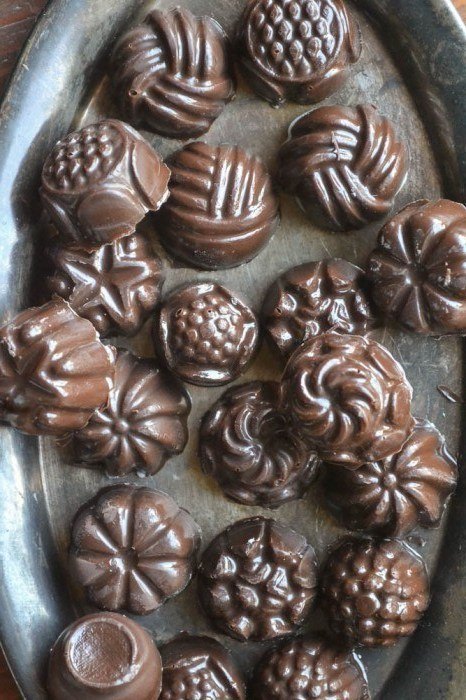 Meyer Lemon Filled Chocolates
Recipe by The View From the Great Island
Visit website
---
---
Believe it or not these Meyer Lemon Filled Chocolates are super easy to make at home, and you can customize the chocolate and the filling in countless variations!
---
Servings
2 dozen chocolates
Courses
---
Ingredients
2 cups Dark cookig Chocolate

1 the juice of Meyer Lemon

3 cups confectioner's sugar (approximate)

yellow gel food coloring

(optional)

tools

candy molds

a small paintbrush
---
---
Method
Measure out about a heaping cup of chocolate pieces and put them in a microwave safe glass measuring cup. (I like to work in batches, so repeat for more candies)
Microwave for 1 minute, then stir the mixture until it is smooth and glossy. Microwave in short 10 second bursts if it is not completely melted.
Fill each cavity of your chocolate mold about halfway full. Use your brush to move the chocolate around so that it coats the entire surface of the mold. Put the mold in the refrigerator to set, this will only take about 15-20 minutes.
Make your filling by measuring out your sugar and adding the lemon juice to it. Stir well until you have a thick glossy mixture. Add more sugar or more lemon as needed to get a good consistency for your filling. It can be more or less lemony depending on how thin you make it.
Dab or drizzle a bit of the filling into each chocolate mold. Don't put in too much or you will have trouble covering it with the final layer of chocolate.
For the top layer of chocolate, you will want to completely cover the lemon filling, so I found the best way was to drizzle the chocolate on in a back and forth motion to cover the whole surface of the filling, that way the filling stays in place better.
When the molds are completely filled, rap them firmly on the counter a few times to get rid of any air bubbles, and put them in the fridge for about 3o minutes, or until set.
To remove the candies, just flip the mold over and tap sharply on the counter, the candies will fall right out!